November 29, 2016
Lolli and Pops for the Holidays!
It's officially the season of gift giving! I have to say, I often love giving more than receiving, especially when I'm excited about the gift I'm giving. That's why I'm so excited to share today's post with you! Lolli and Pops is my new favorite place for amazing treats and I can't wait to gift it to several people on my Christmas list! Allow me to show you…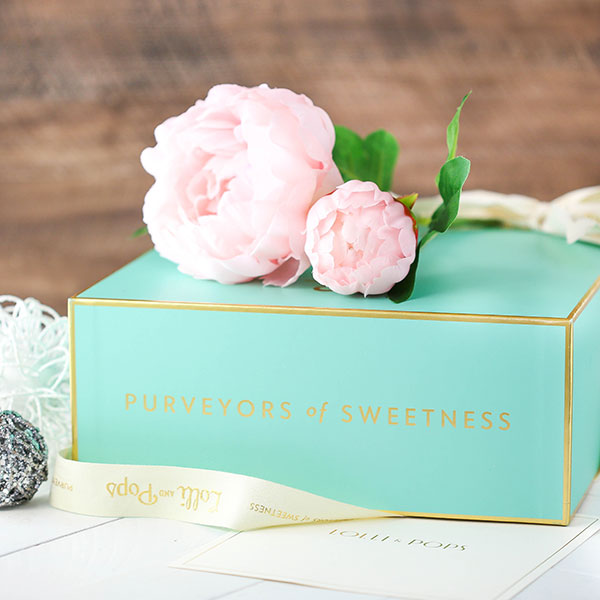 This post is sponsored by Lolli and Pops, but all opinions are my own.
When Lolli and Pops asked me if I'd like to try out one of their new gift offerings, I have to admit that I hadn't actually heard of them before. We have two stores in malls near us, but I honestly don't go to the mall very often and had never seen them. So I hoped over to their instagram and website to check things out.
Immediately I noticed how beautiful their packaging is. Having a design background, I'm into that kind of thing. And having sent and received my fair share of boxes, including treat boxes, these were the most beautiful I'd seen. Not to mention that the treats inside looked and sounded delicious! I was in! Bring on the sweets!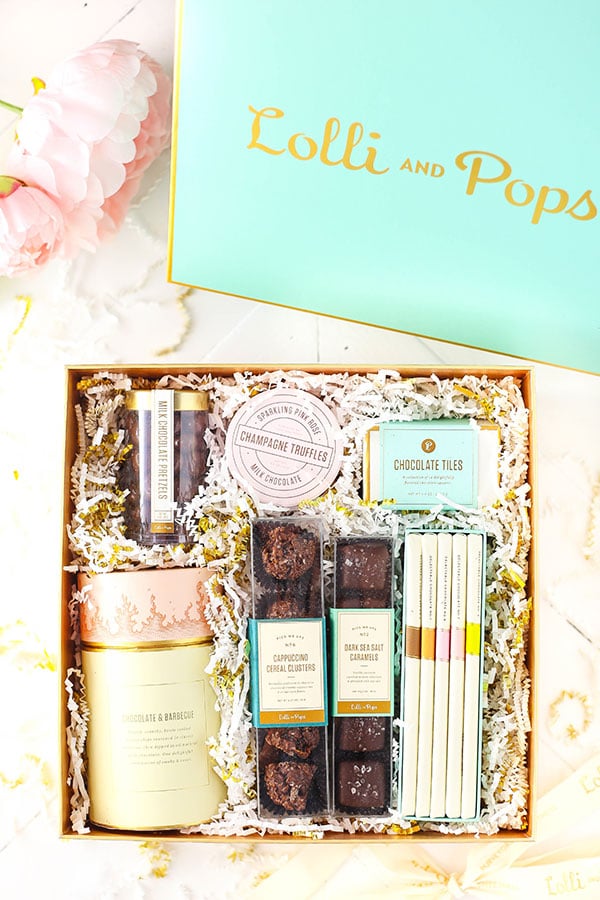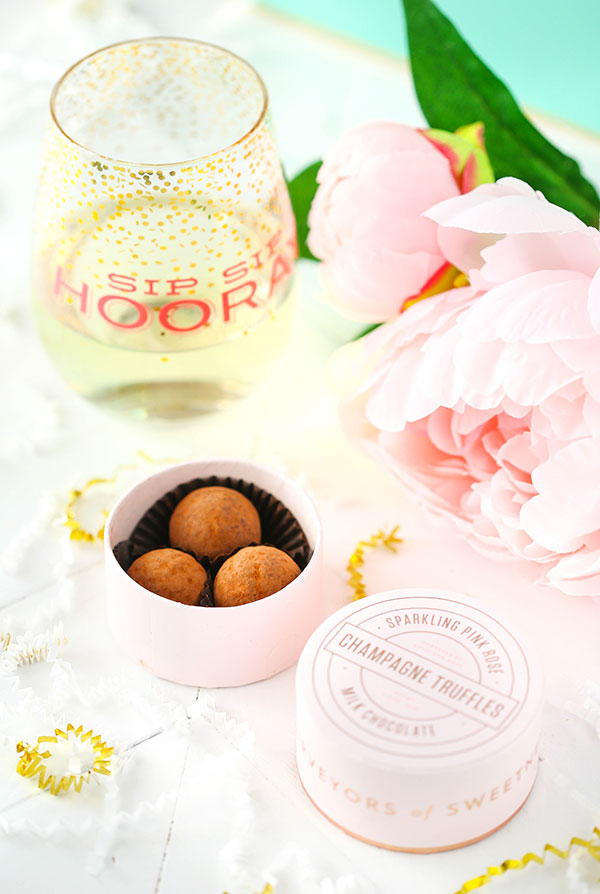 When I got my box in the mail, it was packaged just as you saw above. A beautiful teal box with a lovely bow and a card that can be personalized. Wonderful presentation. I couldn't wait to dig into the treats.
You guys, seriously. I've have my share of chocolates and treats but I was more and more blown away by everything I pulled out of this box. Not only is everything so pretty, the variety of flavors and treats is perfect.
See those champagne truffles up there? THOSE! Honestly, often chocolate treats can end up overpowering, or it says you taste certain flavors and it kind of disappoints. These are perfect! I'm sorry for so much excitement, but it really is unusual to find such quality treats and these totally impressed me. These truffles are to die for.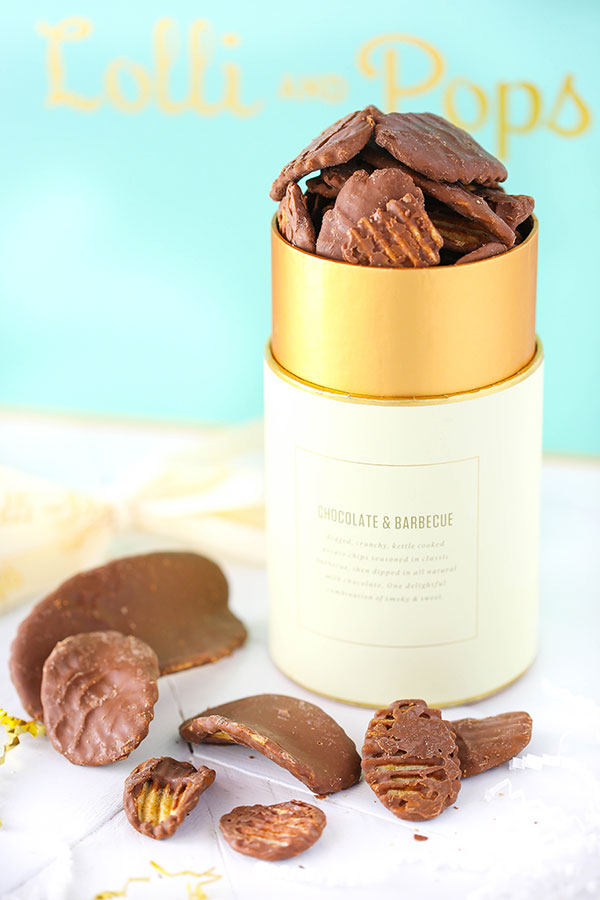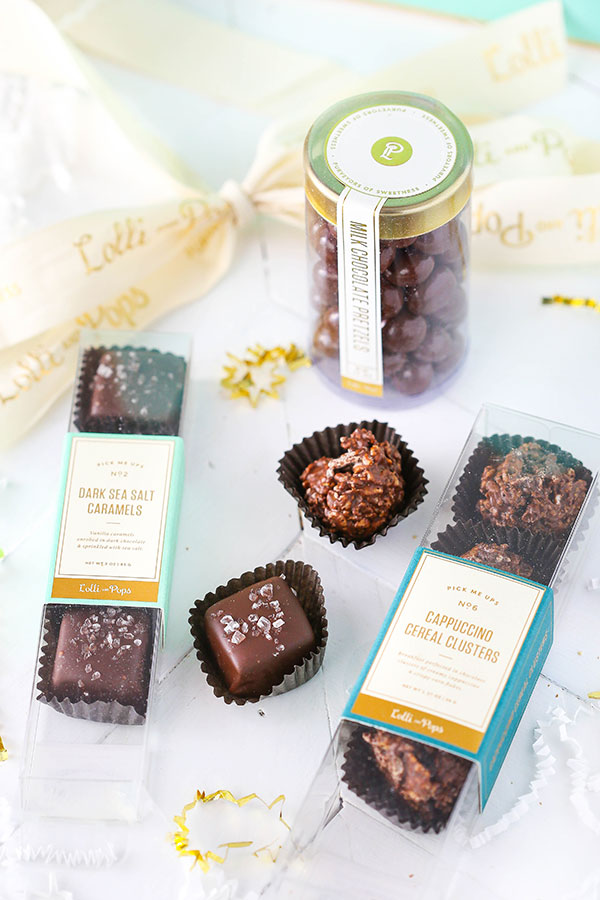 Next I dug into the Chocolate & Barbecue Potato Chips. I wasn't totally sure about the barbecue, but Lolli and Pops did it again. So good! The barbecue flavor is just enough and goes so well with the chocolate. Even the hubs was skeptical, but we are now believers.
The milk chocolate pretzel balls, cappuccino cereal clusters and dark sea salt caramels did not disappoint either. Again, just enough chocolate and cappuccino flavor in the clusters. They were crunchy like a crispy bar, but firmer. I could've eaten them all at once. The pretzel balls are perfect for snacking. And all you have to do is say caramel and I'm sold. Love them all!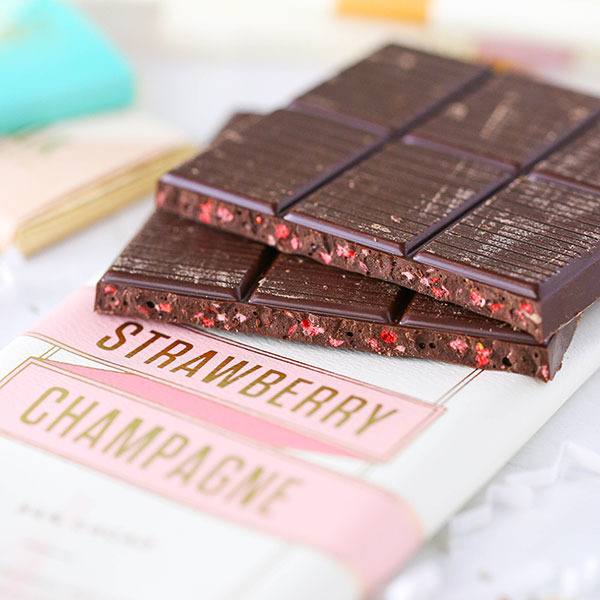 And then there's the chocolate bars. I love trying new flavors of things. Seriously, I dig it. So I was more and more pumped with each of the bars I pulled out. The flavors are SO FUN! As soon as the hubs saw them he wanted to try one. And oh how I love him – the first one he picked was the Strawberry Champagne. It's like he knows me. 😉
Love at first bite, I tell you. See all those little strawberry flecks? Perfect. We loved it and I can't wait to try the others. We have to also try the chocolate tiles below. Again, such fun flavors! We couldn't get through it all yet, but we will.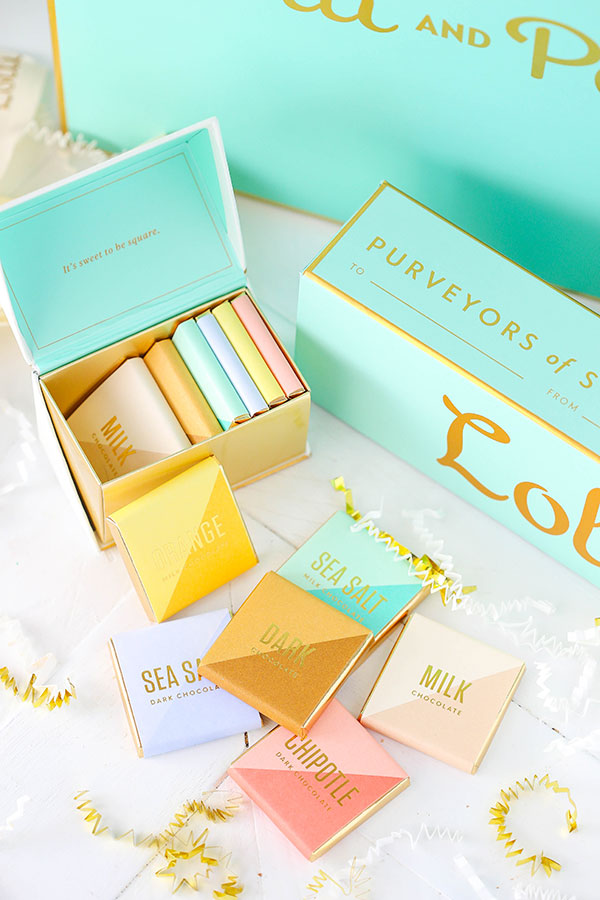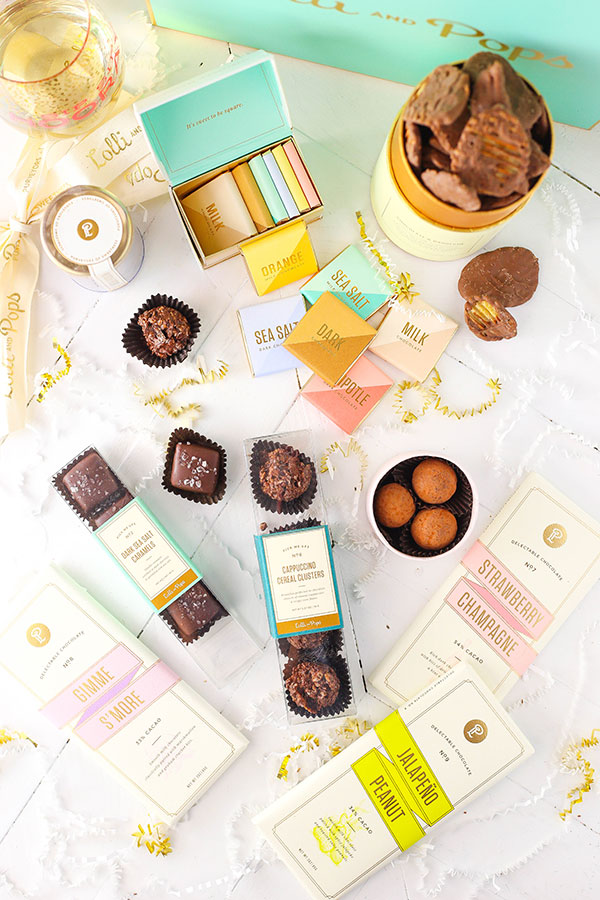 I was so, so impressed with absolutely everything about this gift box. It's the "Fancy That" box for $78, but they have several different options at different price points – even an option for kids with pop rocks, gummy bears and more! It would make the perfect gift. And did I mention it's free shipping on orders through 12/7?
I'm always encouraging edible gifts over giving people something that will sit in a house somewhere and never be used. However, gift boxes and sets can often be underwhelming. This one exceeded every expectation and absolutely felt every bit special. I will definitely be hitting up their stores when I go Christmas shopping this weekend to check out their other treats as well. You could totally put together some of your own mix of treats.
I've got a list of about 4 or 5 people that I already know are going to get one of these boxes. The hubs suggested we hold onto some of the treats for when his family comes for Christmas because they are so nice, but I'm pretty positive it's not going to last. That just means that I have to gift us another box. Fine by me! 🙂