December 13, 2016
November 2016 Stitch Fix
It's Stitch Fix time! One of my favorite times of the month. 🙂 This month my regular stylist must've been out of town or perhaps has left or something, because I had someone new. When I initially pulled things out of the box, I was kind of like, "Oh no…no. Not a fan." But as many boxes will do, I ended up loving so much of what I got once I had a chance to dress things up. I didn't necessarily keep everything, but it was fun to try out some new things.
So what is Stitch Fix?
Well, basically it's like having your own personal stylist. But better.
More specifically, it's a monthly subscription (although you can set it to every other month too or just pick your dates as you go). When you sign up, you fill out a profile where you specify all kinds of things like sizes, ideal price range, shapes and styles you prefer, colors and patterns you prefer. You can make a pinterest board and link to that so that your stylist can get a feel for what you like. You basically want to provide as much detail as you can so that they can pick stuff to match your style.
Then you pick a date to have your box arrive. You'll get 5 pieces. It can be clothing and accessories. You pay $20 a month to receive the box and if you decide to keep stuff, the $20 goes towards the purchase of your items. If you keep everything, you get 25% off – score! I've done that several times. Plus, if there's a month that's not so good and you don't want a box, you can turn it off for a month – no penalty. And now they officially do exchanges, which is new and totally awesome! If you get something you love but need a different size, you can do it!
Once you get your box, you have 3 days to try everything on and decide what to keep. This part is my favorite, obviously. They even give you an awesome card that has suggestions on what to pair the items with. And they send you a pre-paid envelope to put everything in to mail it back. Just pop in it the mailbox! You can give them feedback online about what you liked and didn't like to help them send even better stuff in the next box. You can even request something specific.
Plus, they even have petite and maternity clothes and just recently added men to the mix. Rock on!
So lets look at what they sent me this month.
Cielia Textured Knit Dress by Crescent – $68
Upon pulling this dress out of the box, I immediately though I'd dislike it. Everything about it seemed wrong – the color, the flare, even the polka dots I wasn't sure about in a dress. But once I put in on with a jacket and tried to dress it up a bit, I fell in love with it! Seriously, I was SO TORN over this dress! I absolutely loved it. BUT – I get so cold in the winter and the material was clearly a fall/winter dress. I just wasn't sure I'd actually wear it. I can't tell you how many things I've purchased over my life thinking and hoping I'd wear it and then didn't. Sadly, I was afraid this would fall into that category and I sent it back. But it was SO CUTE!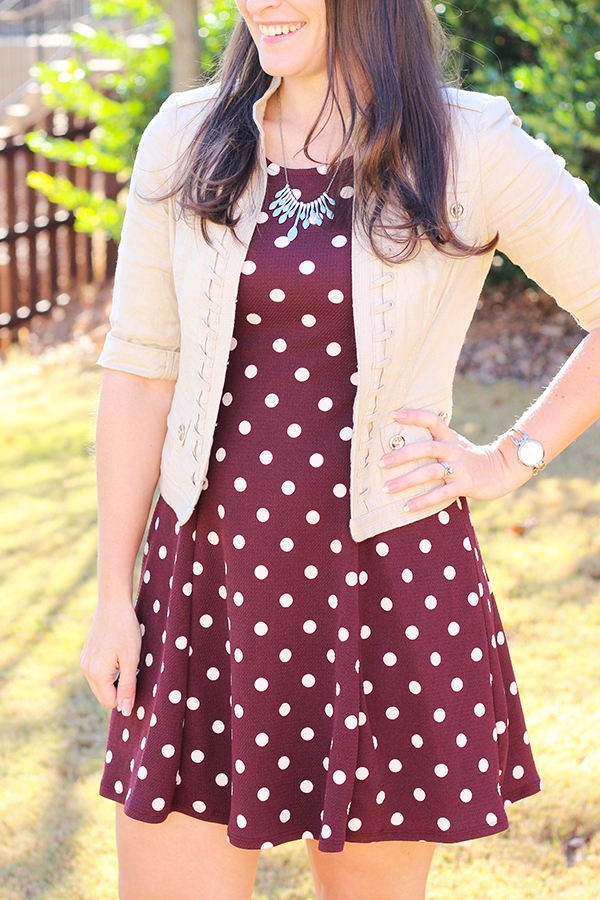 Asa Knit Blazer by Skies Are Blue – $68
I loved the fun striped cuff detail of this blazer. And after receiving pants in this color from Stitch Fix a few months ago (they are now my very favorite pants), I dig this color. But I just wouldn't describe myself as a blazer person. As much as I liked it, I really didn't think I'd use it. It went back too.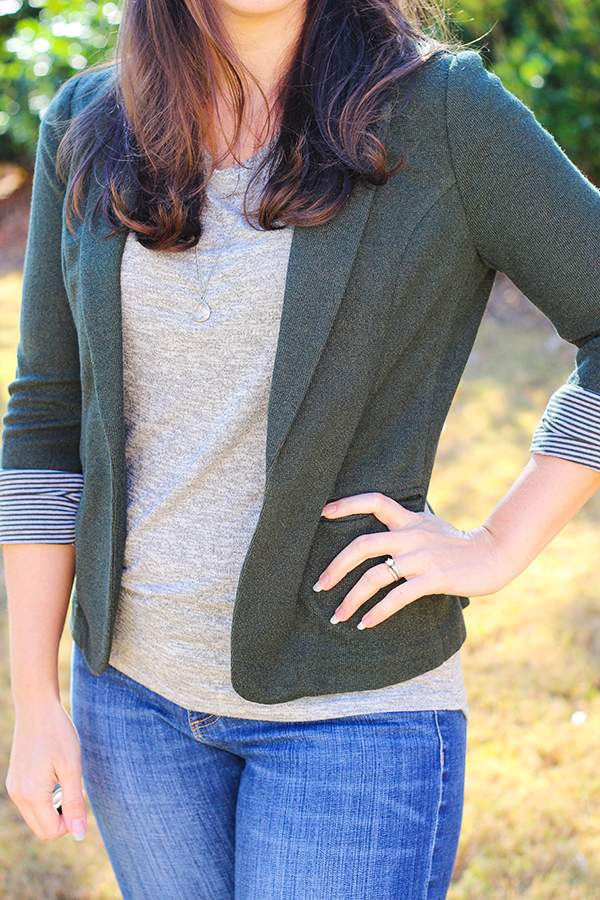 Hans Crochet Front Top by Market & Spruce – $58
This shirt is totally my style. The black is very classic. The crochet is very lacey, which I love. I felt good in it. I can totally see myself wearing this. Kept!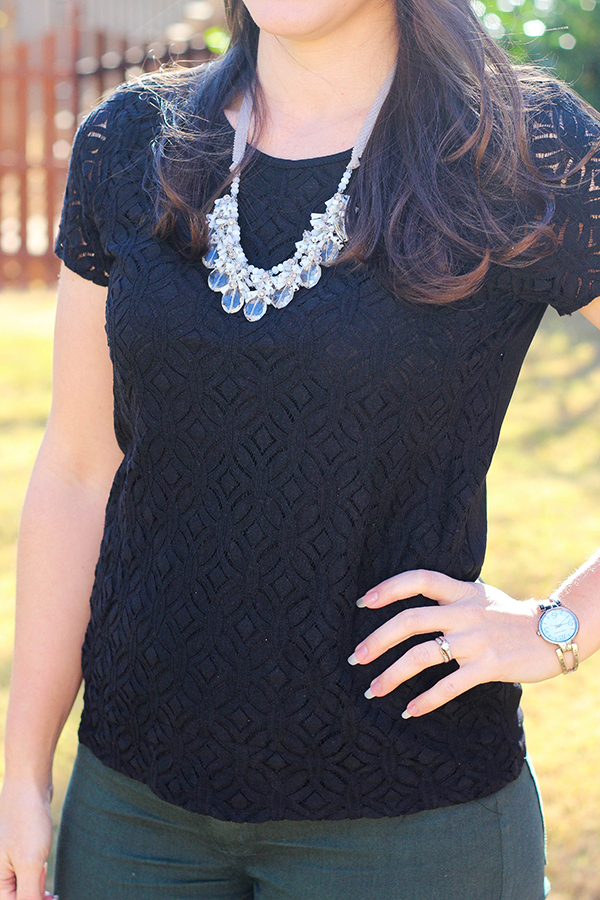 Elle Faux Suede Skirt by Le Lis – $58
Ok, so this was another thing I pulled out of the box and wrinkled my nose at. I don't do super tight things – especially in suede. However, I used their suggested styling tips and despite my discomfort in something so snug, I found myself starting to like it. I genuinely dig the pattern and colors and had it been a top of some kind, I might have kept it. I just can't do pencil skirts. Back it went.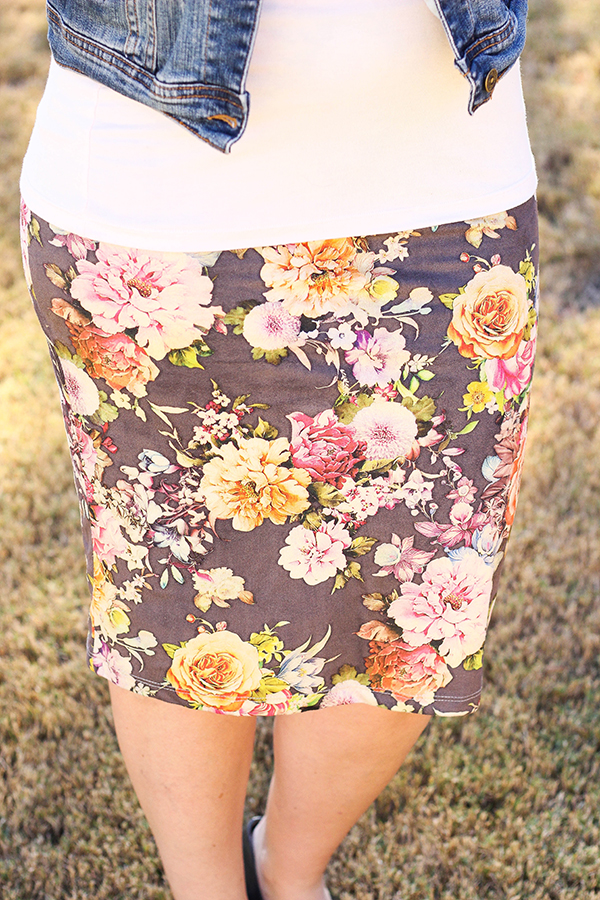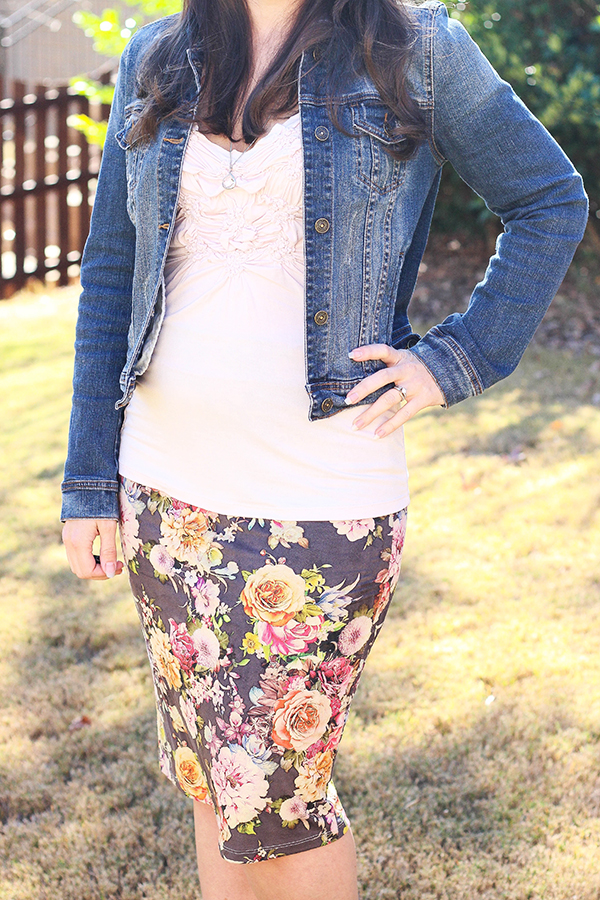 Anica 3/4 Sleeve Knit Top by Papermoon – $48
I was torn on this one. It's totally my style. It's a fit I wear often. The material was super soft. I loved the purple detail. It was so like me that I put it on for the hubs and he wasn't sure which piece of clothing I had on was the Stitch Fix – he thought it was a shirt I already owned. I mean, she totally nailed my style on this one. But it really is so close to a couple other tops I have that I decided not to keep it.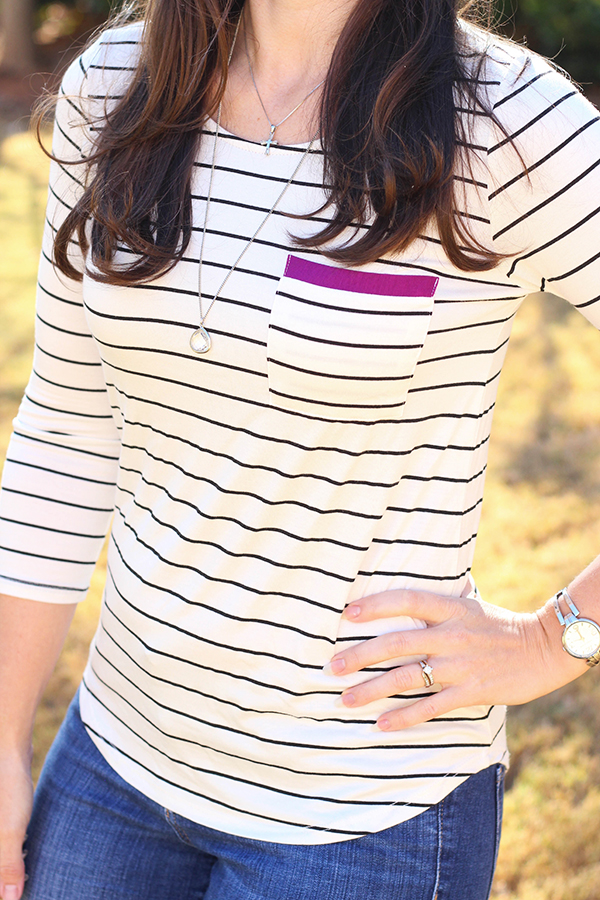 So there you have it! I kept one thing and sent the rest back. Like I said before, it was a different stylist than before so the style of the box overall was different. That said, I loved the different looks. The dress really was something I didn't expect to like and I loved it! Even though it wasn't right for me for cooler weather, I will totally try to find something with a similar shape when it gets warmer. I love that I've got something new to look for later! 🙂
Disclaimer: This is not a sponsored post. I signed up for Stitch Fix and purchased the box myself. I'm sharing my opinions because I like to and because I think they will help others. This post does contain referral links for new sign-ups that gives me a small credit towards my next box.