October 23, 2016
October 2016 Stitch Fix
Today I'm sharing my latest Stitch Fix with you. I always look forward to getting my box! This is my 21st fix and it's hard to believe I've gotten that many! I've taken a break here and there since starting to receive the boxes, but I really do love it. And I've been loving my latest stylist. I kept everything in my last box and have kept several things from the few prior to that. Thank goodness for Stitch Fix or I'd never update my closet! I just never seem to be able to get out shopping and when I do, finding the right things is hard. These boxes work like a charm!
So what is Stitch Fix?
Well, basically it's like having your own personal stylist. But better.
More specifically, it's a monthly subscription (although you can set it to every other month too or just pick your dates as you go). When you sign up, you fill out a profile where you specify all kinds of things like sizes, ideal price range, shapes and styles you prefer, colors and patterns you prefer. You can make a pinterest board and link to that so that your stylist can get a feel for what you like. You basically want to provide as much detail as you can so that they can pick stuff to match your style.
Then you pick a date to have your box arrive. You'll get 5 pieces. It can be clothing and accessories. You pay $20 a month to receive the box and if you decide to keep stuff, the $20 goes towards the purchase of your items. If you keep everything, you get 25% off – score! I've done that several times. Plus, if there's a month that's not so good and you don't want a box, you can turn it off for a month – no penalty. And now they officially do exchanges, which is new and totally awesome! If you get something you love but need a different size, you can do it!
Once you get your box, you have 3 days to try everything on and decide what to keep. This part is my favorite, obviously. They even give you an awesome card that has suggestions on what to pair the items with. And they send you a pre-paid envelope to put everything in to mail it back. Just pop in it the mailbox! You can give them feedback online about what you liked and didn't like to help them send even better stuff in the next box. You can even request something specific.
Plus, they even have petite and maternity clothes and just recently added men to the mix. Rock on!
So lets look at what they sent me this month.
Gideon Polka Dot Sweater by 41 Hawthorn – $68
The hubs and I loved this one. He is always a fan of me in white sweaters for some reason. 🙂 I loved the polka dots and thought it was super cute. The material was also really soft and I feel like I'll get a lot of use out of it. Keeper!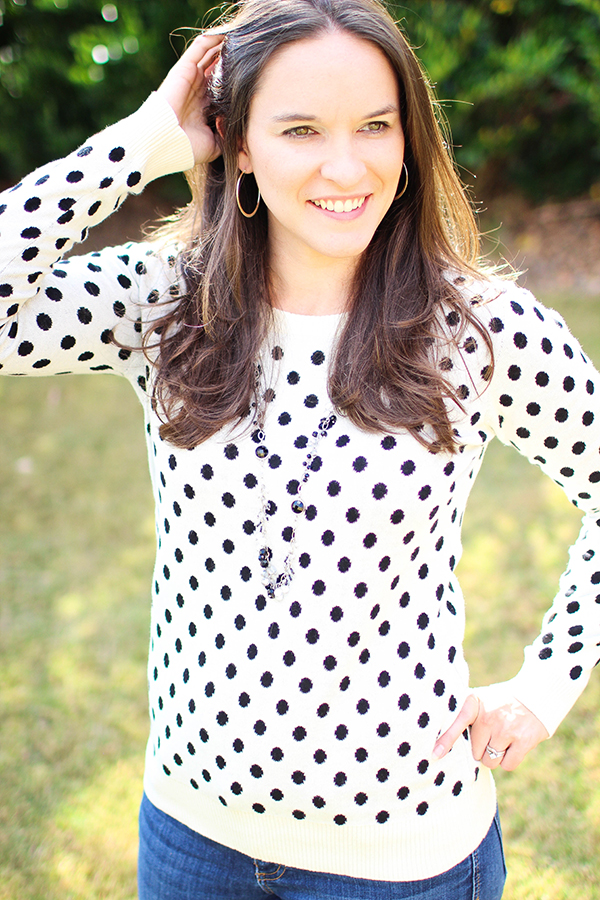 Angelo Cargo Anorak Jacket by Market & Spruce – $108
I was totally torn on this jacket. I wouldn't say it's my normal style, but one of the things I love about Stitch Fix is they send me stuff that's different than I'd normally pick for myself and I get to try it on a few times. I must admit that after putting this on several times, it totally grew on me. Ultimately though, I didn't keep it. For the price I just wasn't sure I'd get enough use out of it. I might regret it later though. We'll see.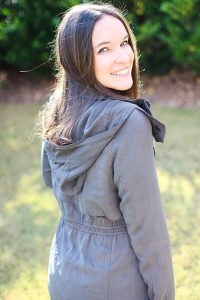 Parvin Reversible Tote by Street Level – $58
Again, I was torn. I love the color. It was great quality. I loved the matching clutch. And it was super cute, but I wasn't really sure I needed a tote. Sent it back.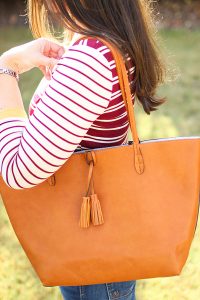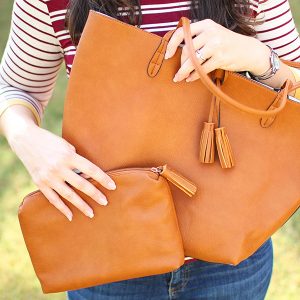 Milla Crew Neck Knit Top by Tart – $58
Yes, another one I was torn on. I loved the colors and it fit well. But it was a tad shorter than I like and I just had a feeling like I might not wear it as much as I thought. So back it went.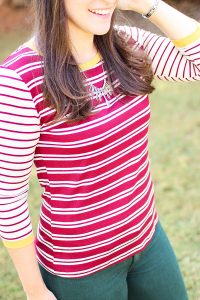 Chana Embroidered Dress by THML – $78
At the risk of sounding like a broken record, I was torn on this one too. 🙂 When I first put it on, it felt very loose and not at all flattering. When I put it on again, with shoes and such, it totally grew on me and I almost kept it. I could see it being very comfortable and easy to throw on. My concern was that it's clearly more for fall/winter and I get cold so easily that I wasn't sure I'd end up wearing it. Another I might regret sending back later.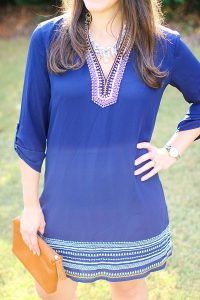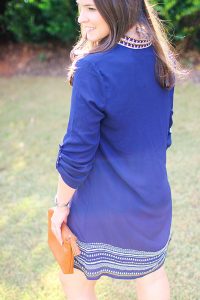 So there you have it! This month I kept the one sweater, but I was close to keeping the dress – and at one point considered just keeping it all. In the end, I just wasn't sure I'd use everything so I kept the one I knew for sure I'd wear over and over. 🙂 It's always fun though so I'm already looking forward to next month!
Disclaimer: This is not a sponsored post. I signed up for Stitch Fix and purchased the box myself. I'm sharing my opinions because I like to and because I think they will help others. This post does contain referral links for new sign-ups that gives me a small credit towards my next box.