November 2, 2016
The Great Portland Dessert Trek
A few months ago, I traveled to Portland, Oregon to spend a long weekend visiting with my friend Julianne and check out some great food spots around town. Being food bloggers, most trips we take together involve hunting down the best foods. Portland is not only known for keeping things weird, but for their food. Seeing how we are both dessert lovers, that was the primary focus of our excursion.
We hit a mix of ice cream, donut, pie places and other types of desserts so if you are ever in the Portland area, here are the things we tried and some of my favorites.
Our first stop was at Eb & Bean, known for their frozen yogurt, including non-dairy vegan and gluten free options. They have a mix of seasonal and regular flavors and Julianne and I got to sample them all.
I'm not normally one to go for vegan or dairy free, but these were seriously tasty. The vegan chocolate hazelnut pudding was delicious and Julianne got it in a cone. Being the caramel fan that I am, I went with the salty caramel yogurt, caramel sauce and almond toffee crumbs on top. So good! They have some seriously fun and unique toppings.
This little shop was different than most I've been to and we were definitely fans.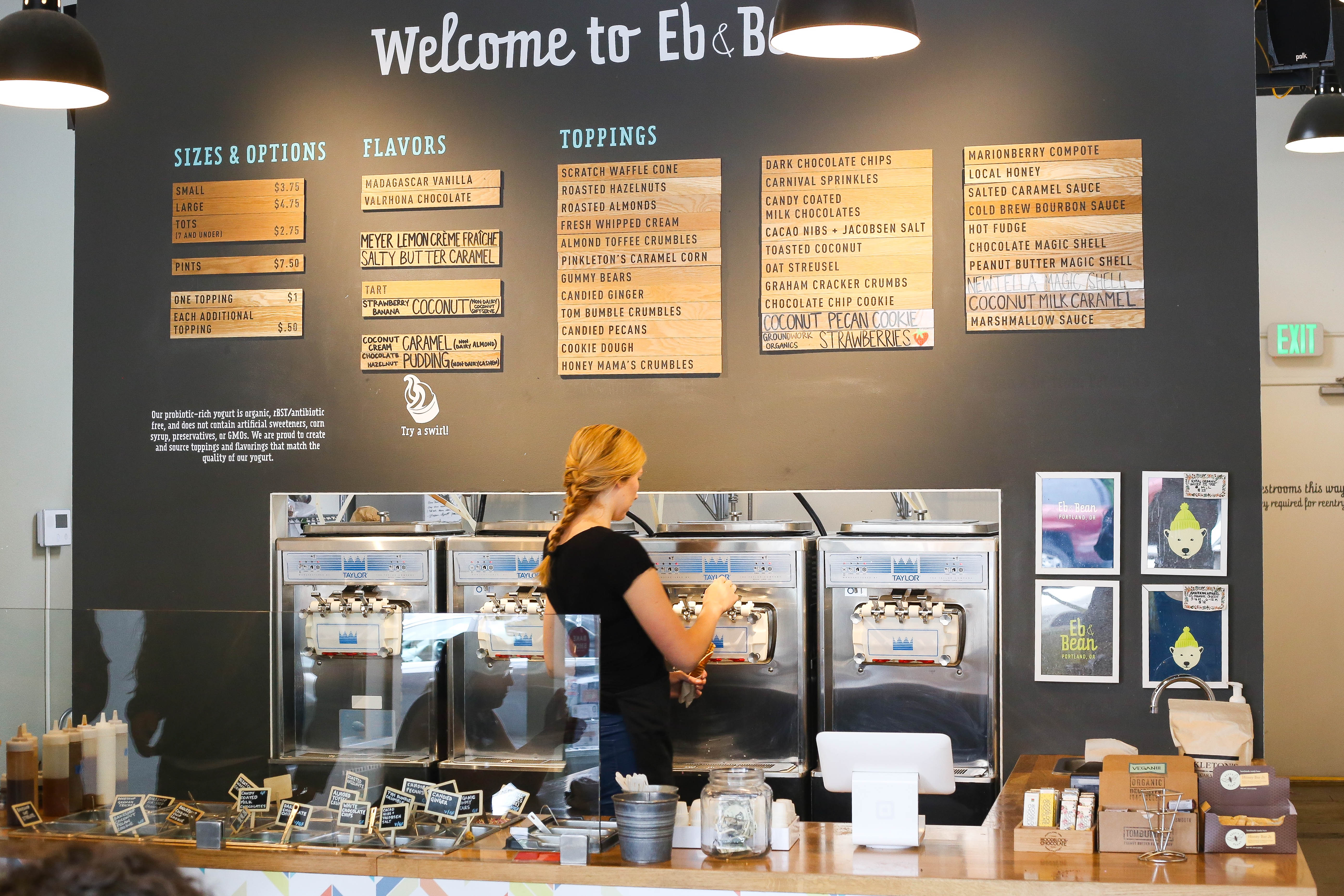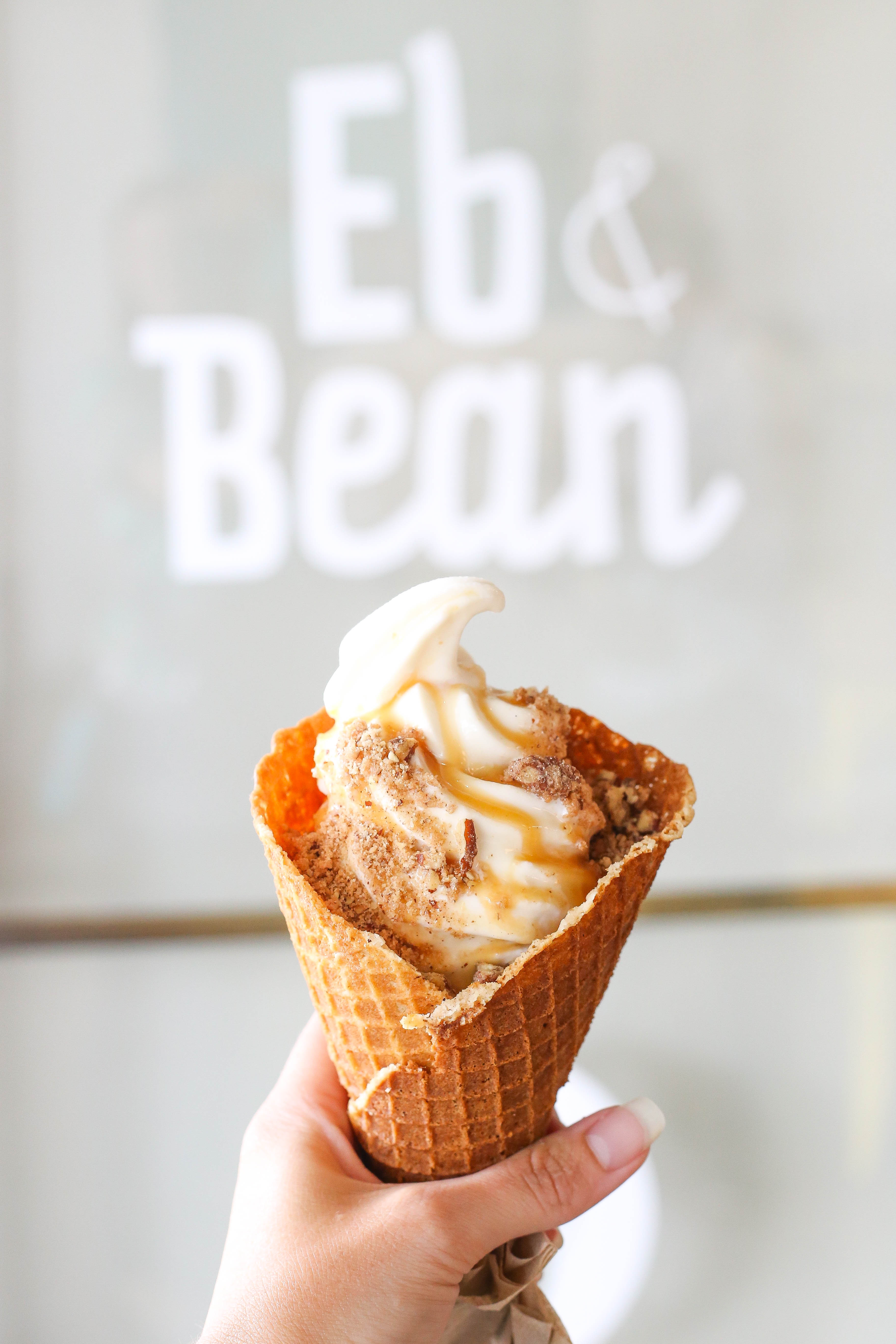 Not far from the yogurt shop, we decided to try some churros at 180 PDX. They had a lot of fun ways to experience churro eating, but my favorite by far was the Xuixos – a house made puff pastry, stuffed with house custard and dusted with sugar and spices. I'm pretty sure I'd get that every single time. Amazing.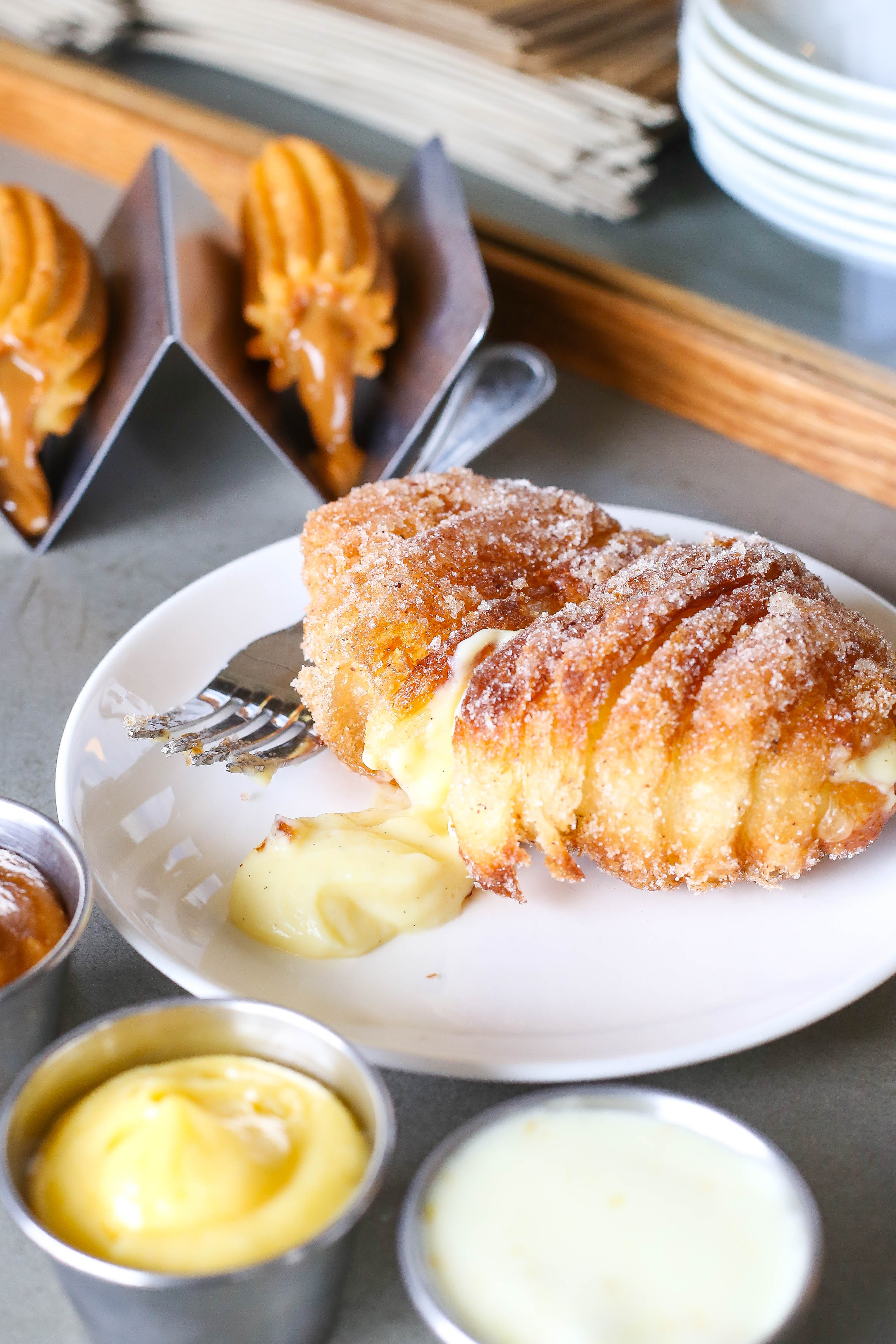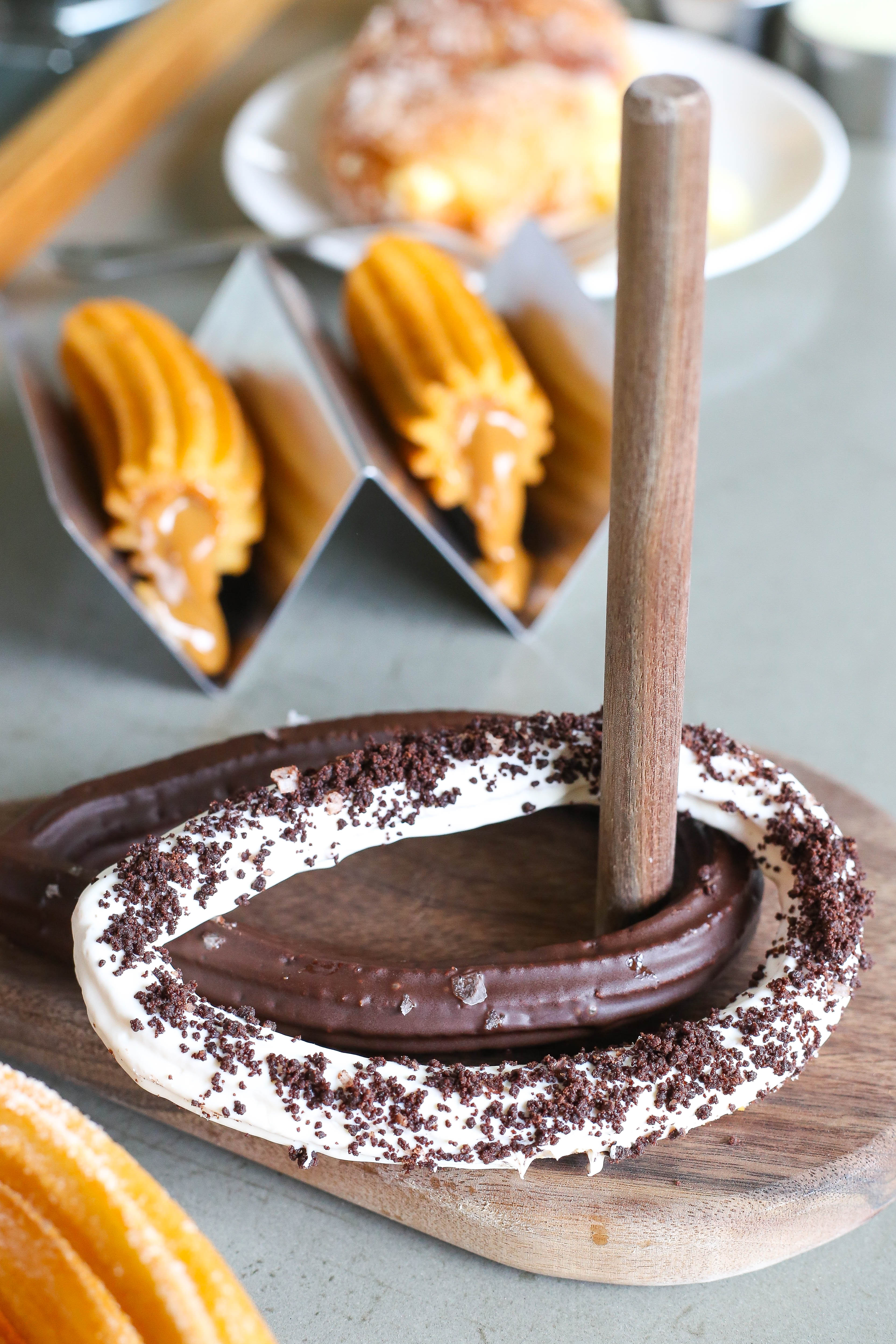 Next up was the Pie Spot. They have more than just pies though! They've got some fun cookies – hello fruity pebbles cookies! – and other yummy things. We were getting full at this point, so we tried a banana cream pie and took a pie crust cinnamon roll and some cookies home for later. All were good, but I think our favorite was the Coconut Lime Macaroon. I'm so glad Julianne got it. I never would've though, but OMG! YUM! Sadly, I didn't get a photo. 🙁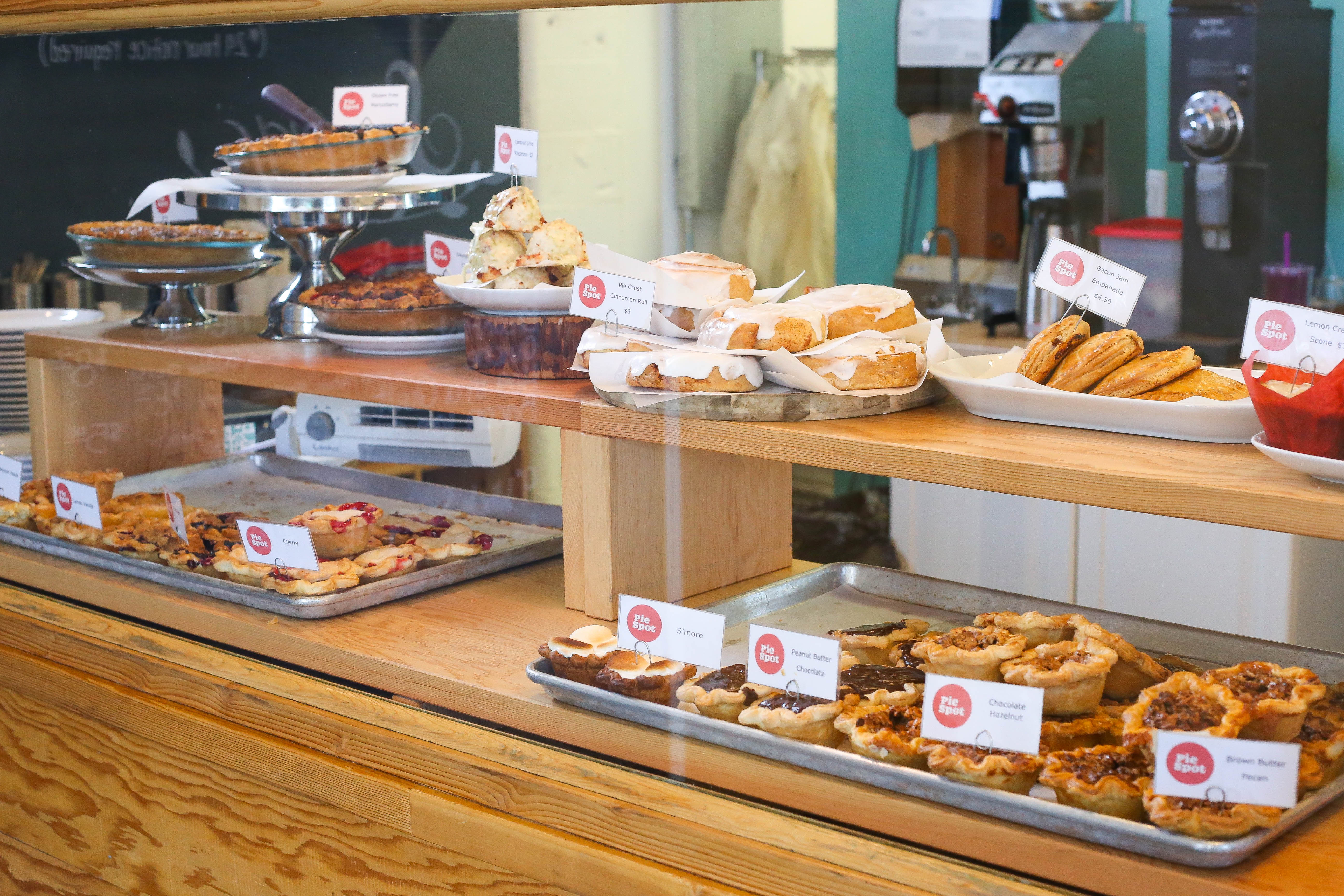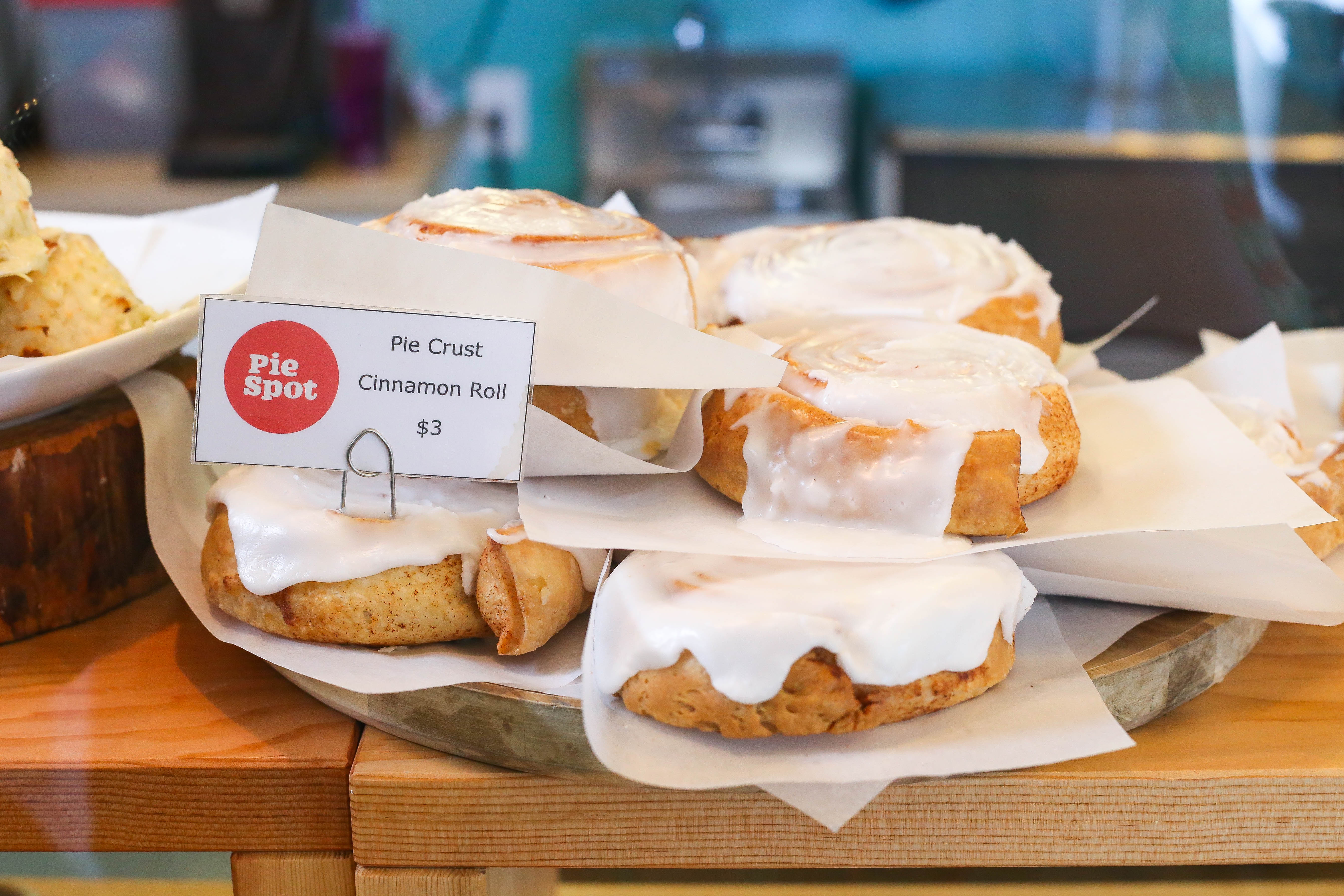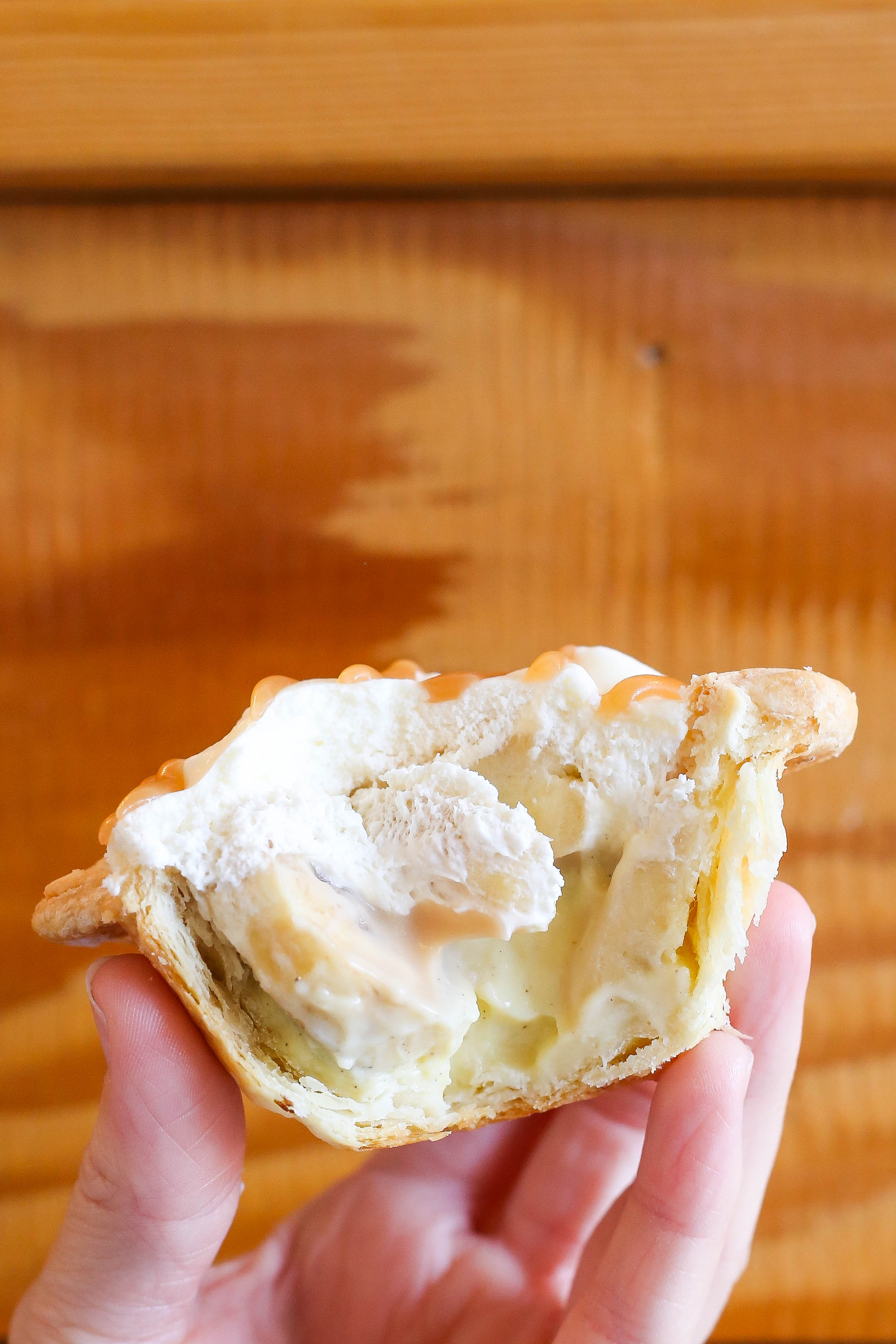 We finished off day one with some ice cream. Julianne was determined to try AllTheIceCream, so our first stop was Fifty Licks. It had a total retro vibe and had neat flavors like Arnold Palmer and Pirate. What's Pirate, you ask? It has roasted bananas, rum, molasses and tropical spices. I mean COME ON?! Had we not been so full that we had to pick one flavor to share, I'd have gotten it. Alas, we tried the ButterScotch, which was scotch ice cream with homemade butterscotch. Honestly? It did not disappoint. While I would have loved to try the Pirate, this is also a flavor I'd get again. So good.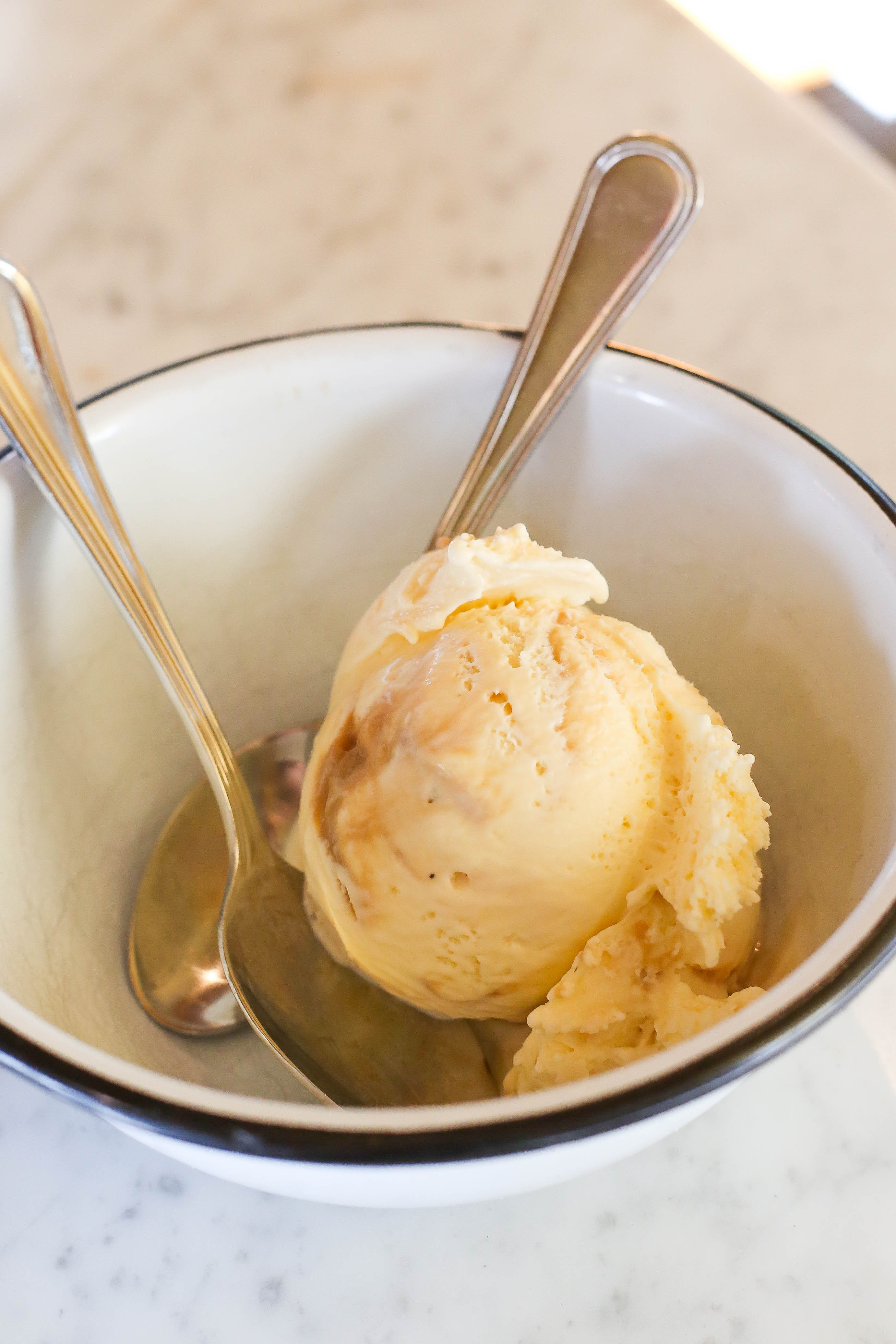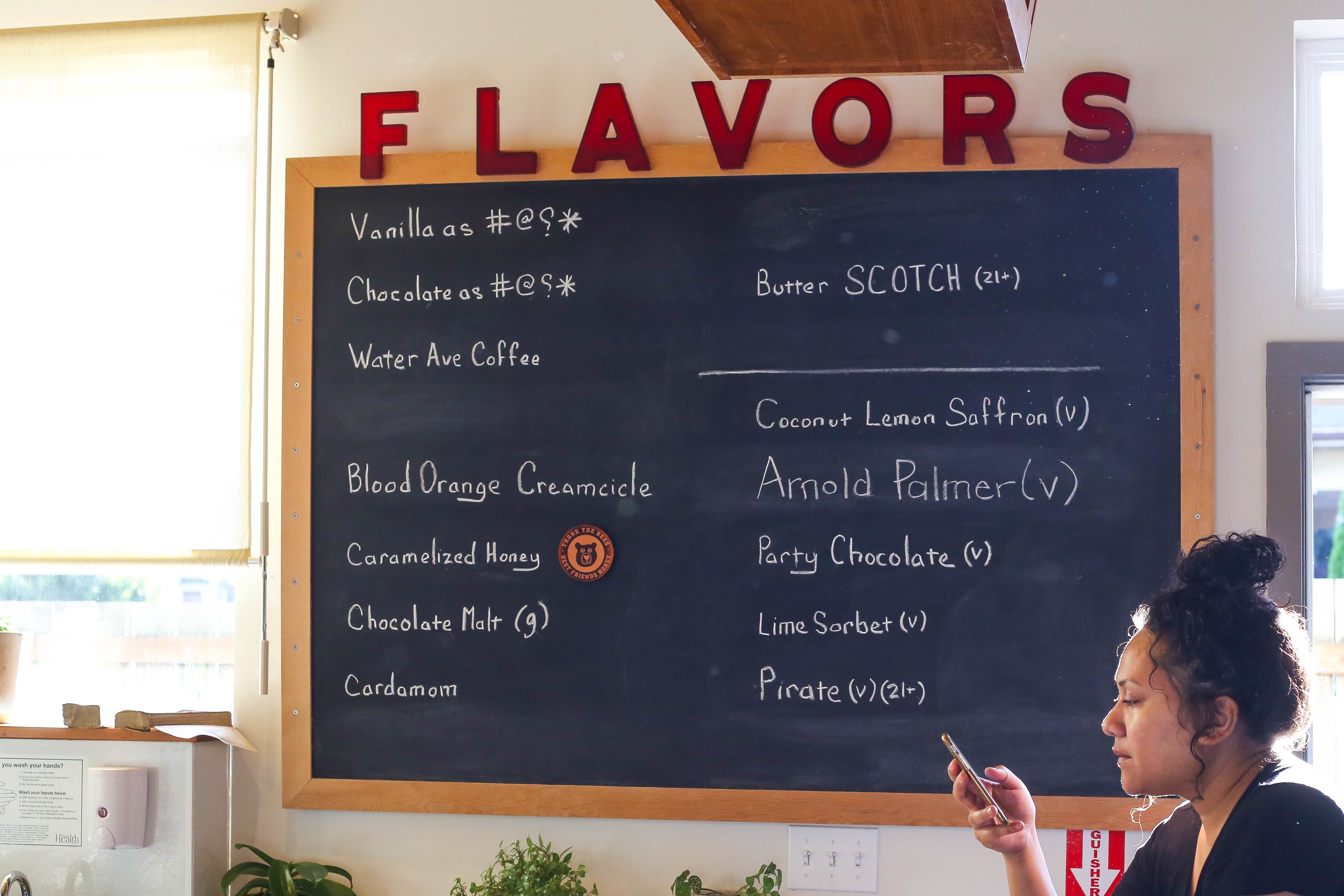 We started off day 2 of eating our way through Portland at the farmers market. A GREAT farmers market with lots of food – both fresh and prepared – and everything was awesome. We got some fresh made gouda cheese for later, had a breakfast crepe and oooohhh-ed and ahhhh-ed over all the beautiful and HUGE fresh fruit, veggies and flowers.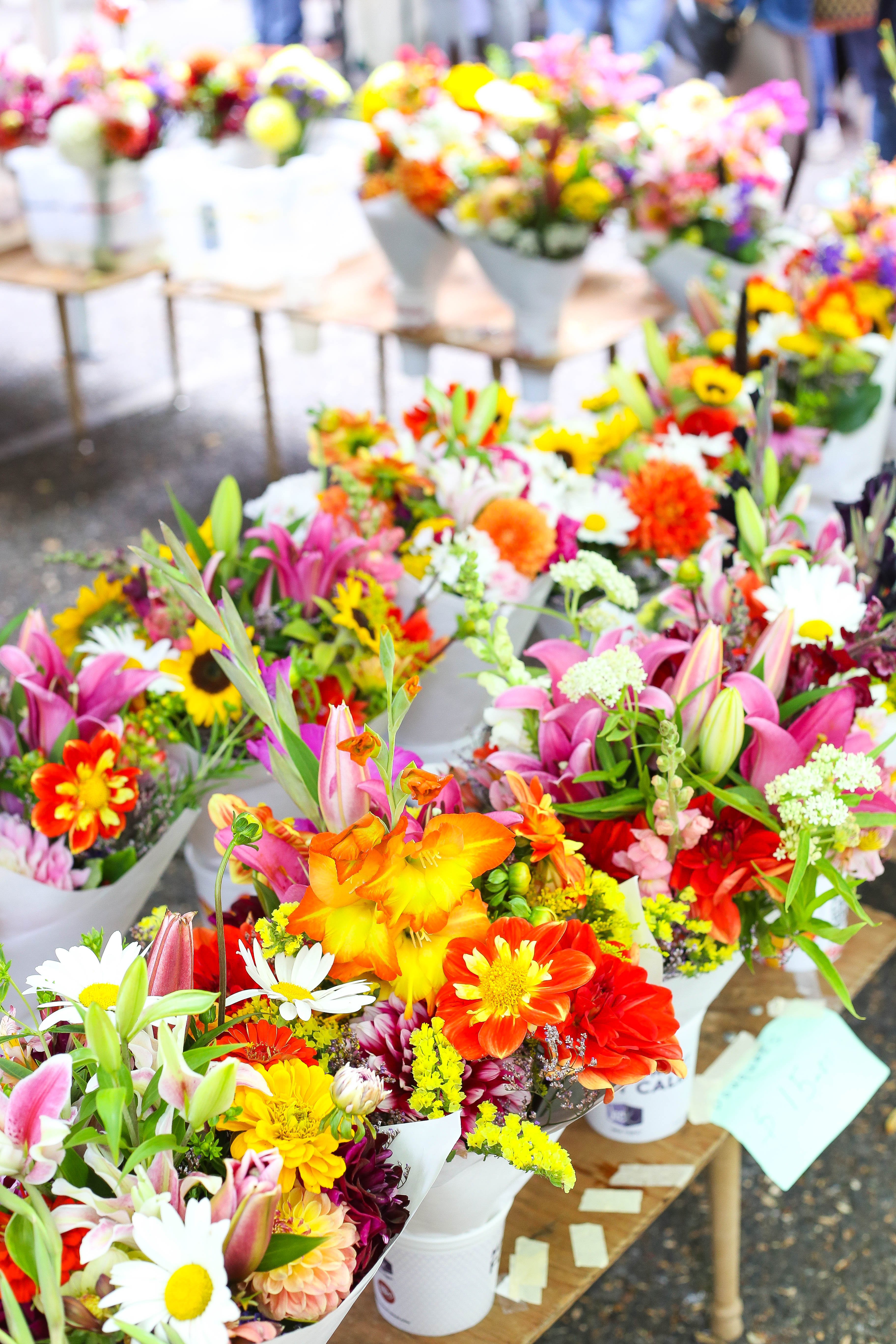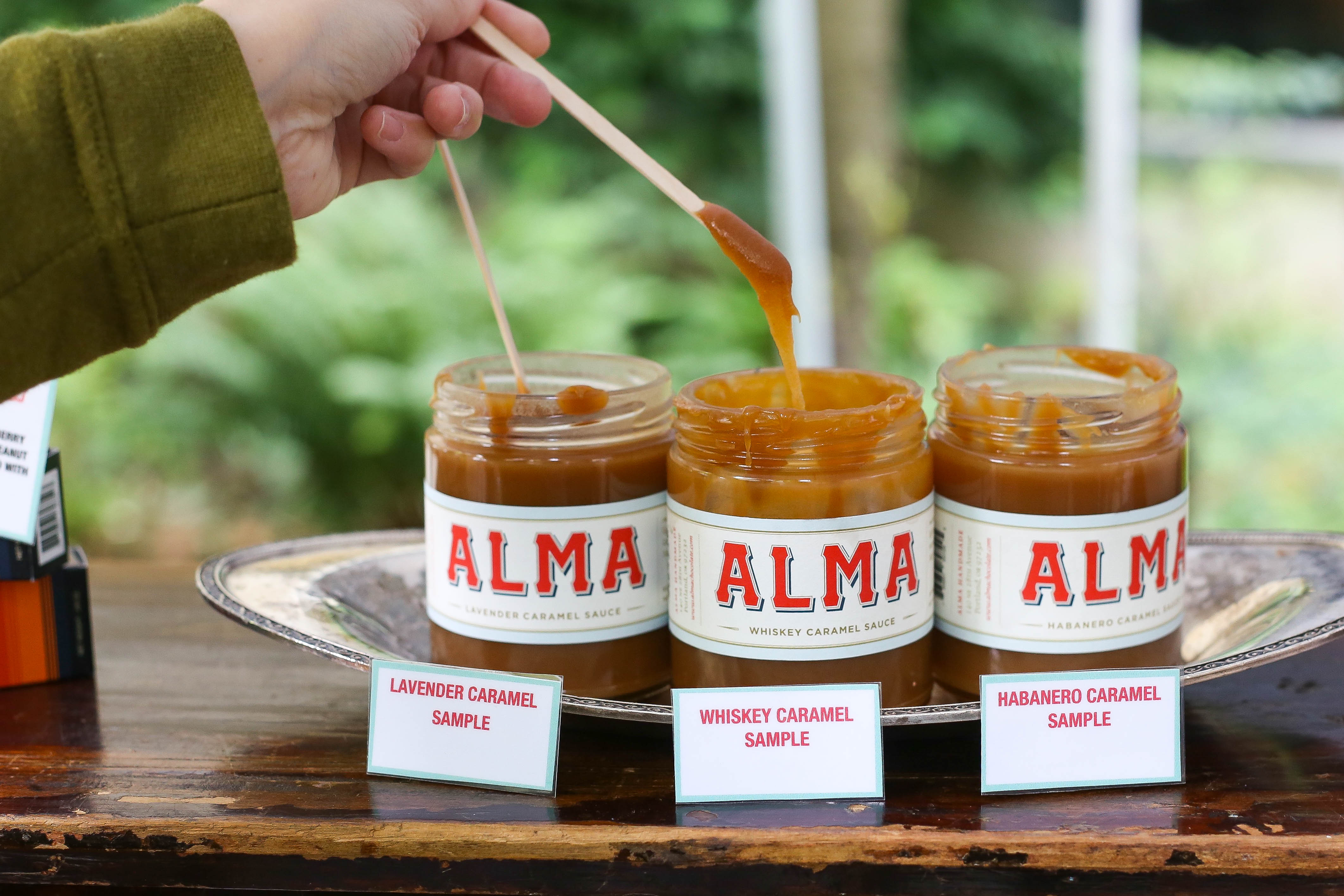 It might surprise you to hear that my favorite thing at the farmers market was dessert. 😉 From Loretta Jeans, specifically. They had lots of yummy looking treats and pies. Julianne got a caramel filled brownie and I got the Salted Honey pie. The pie just sounded so different, I had to try it.
YOU GUYS!!! BEST PIE EVEEEERRRRR!!! And I'm not even a pie person. It is now the goal of my dessert-loving life to recreate the amazing flavor and texture of this pie. It was honey-y, caramel-y and had the smooth and creamy consistency of almost a pumpkin pie. I've never lost my mind over a pie the way I lost it over this one. Pie love.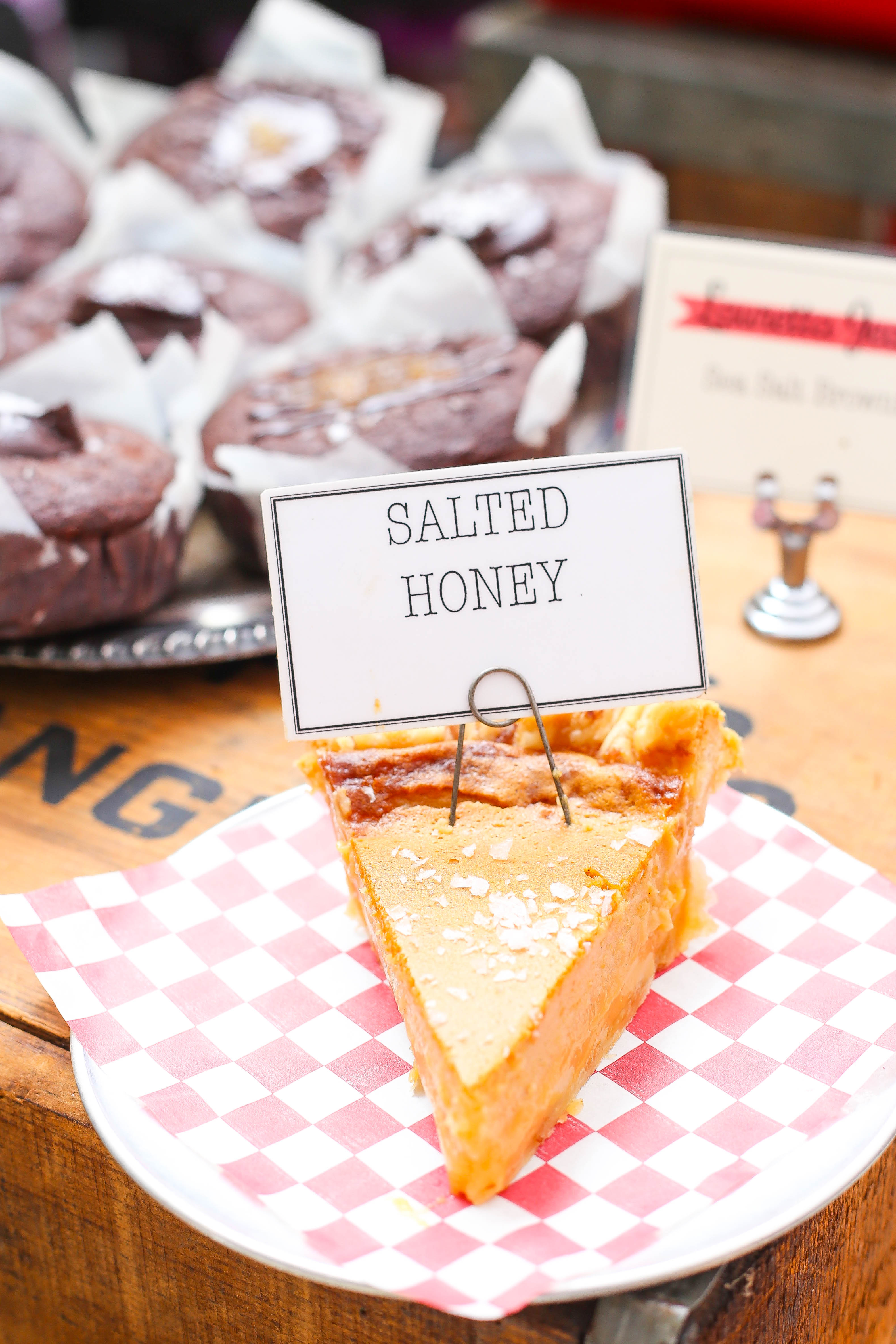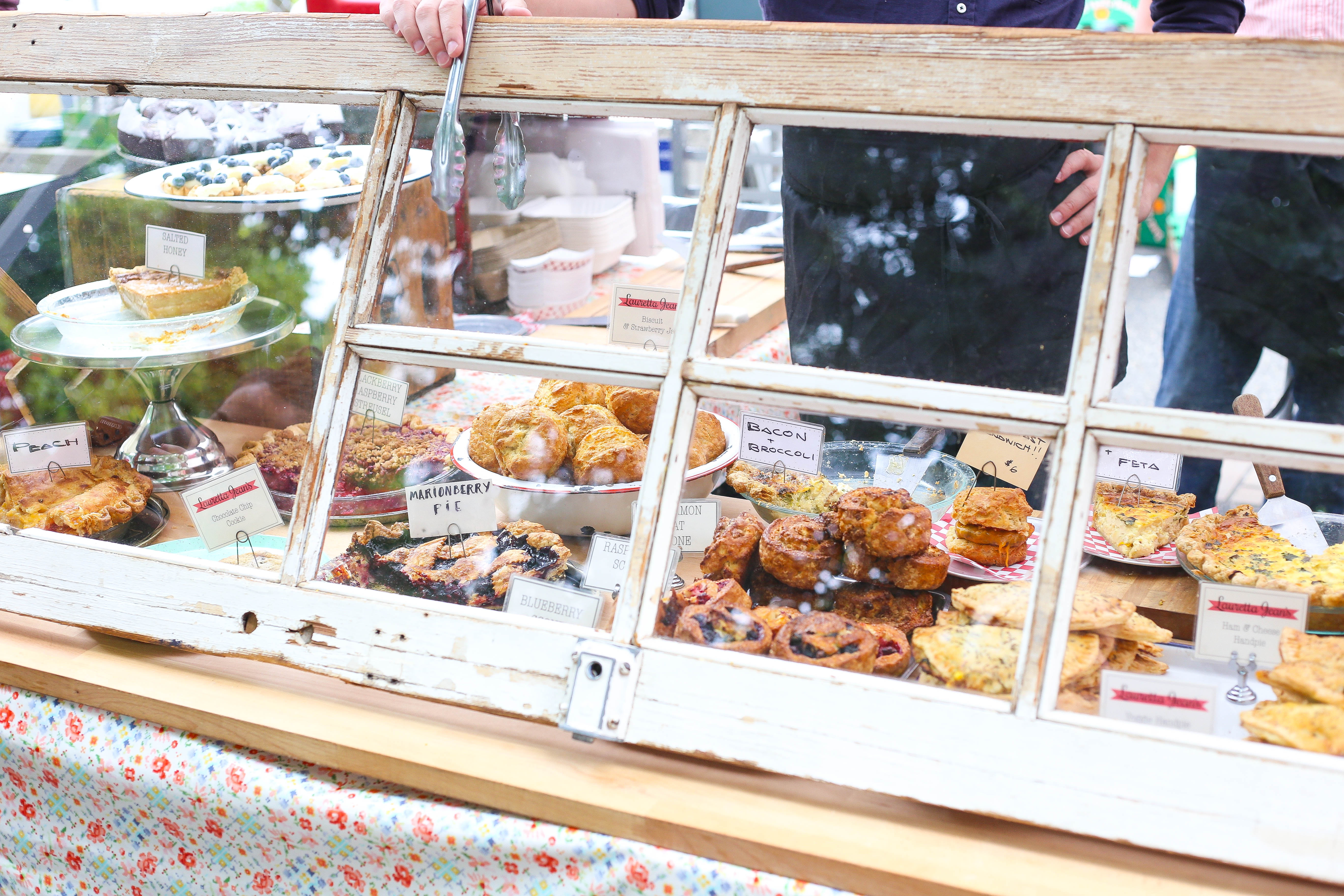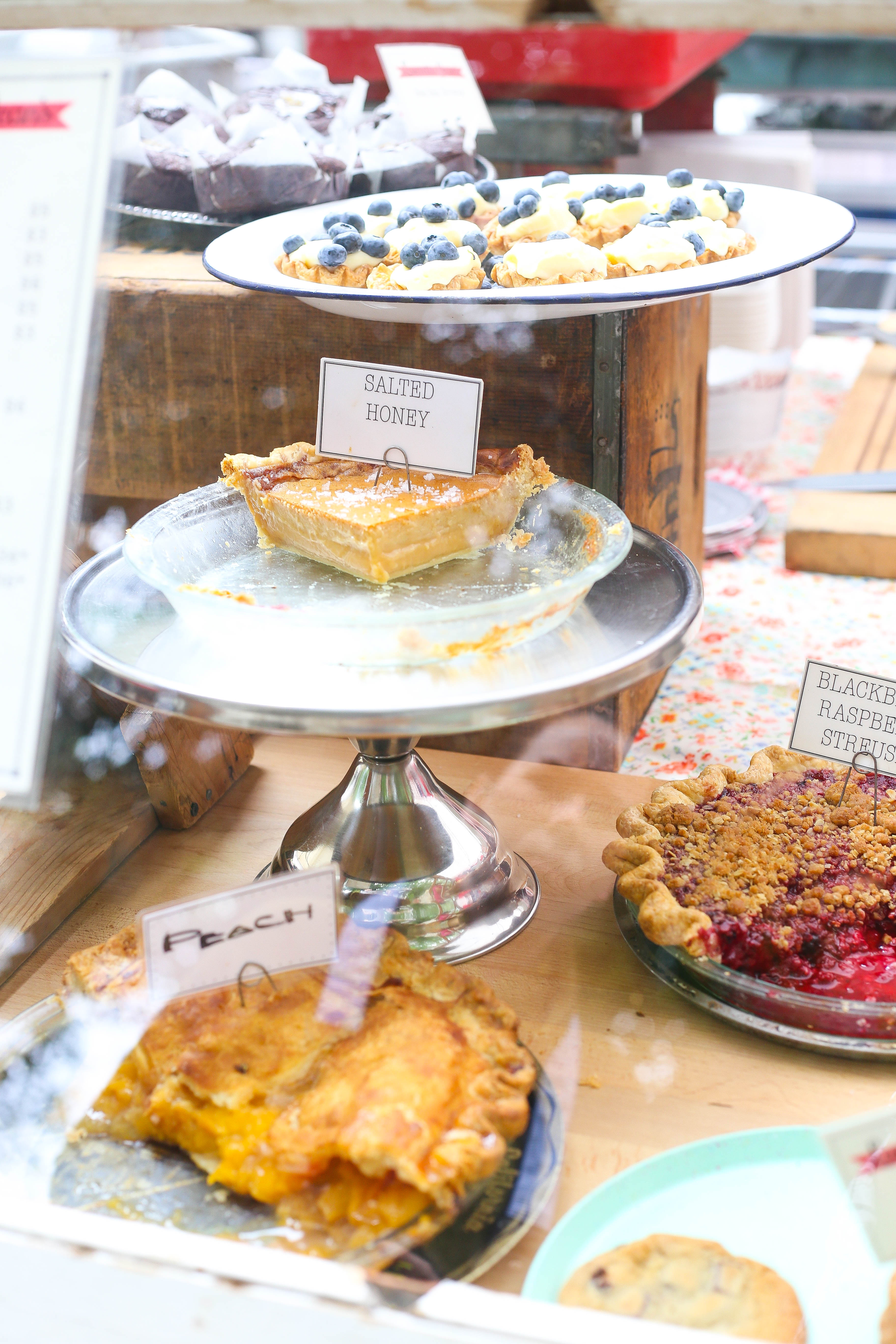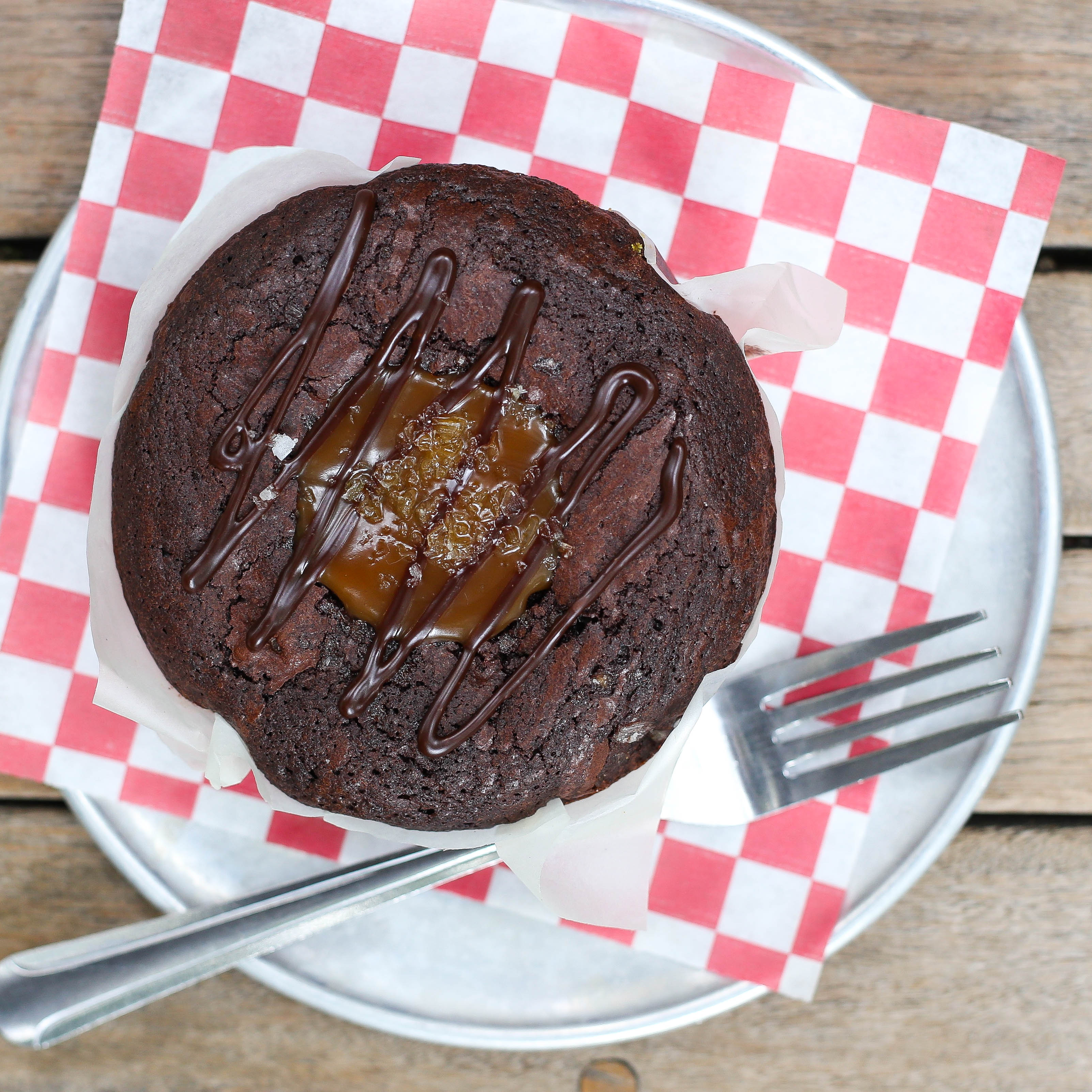 After the farmers market, we had "lunch." And by lunch I mean we sat down and had dessert at a table. Because that's what you do at lunch – you eat at a table. Also, Prosecco. And a toast to being done with our cookbooks. 🙂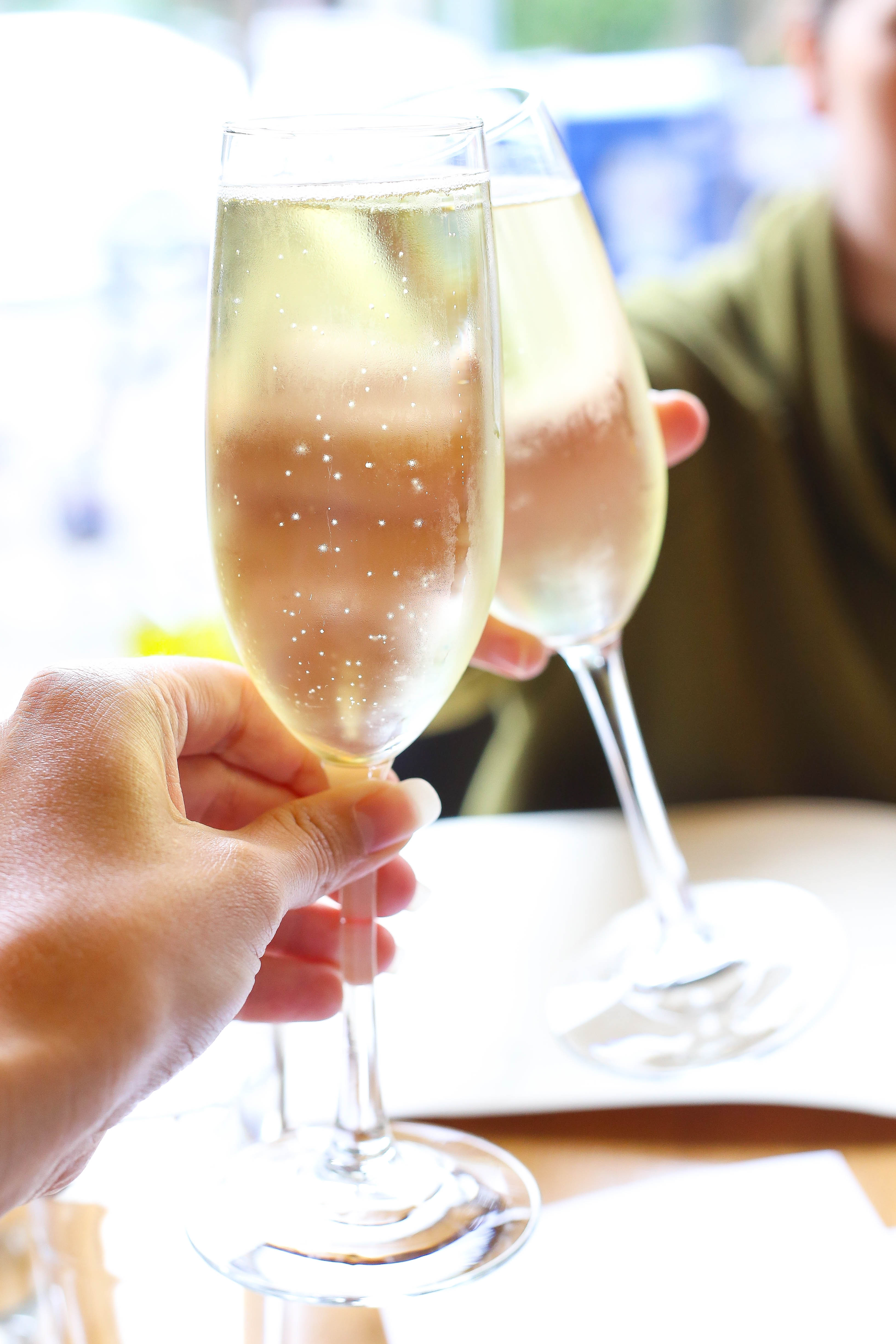 We may have a gotten a little over-excited at Papa Haydn, but can you blame us? I mean look at that dessert case!!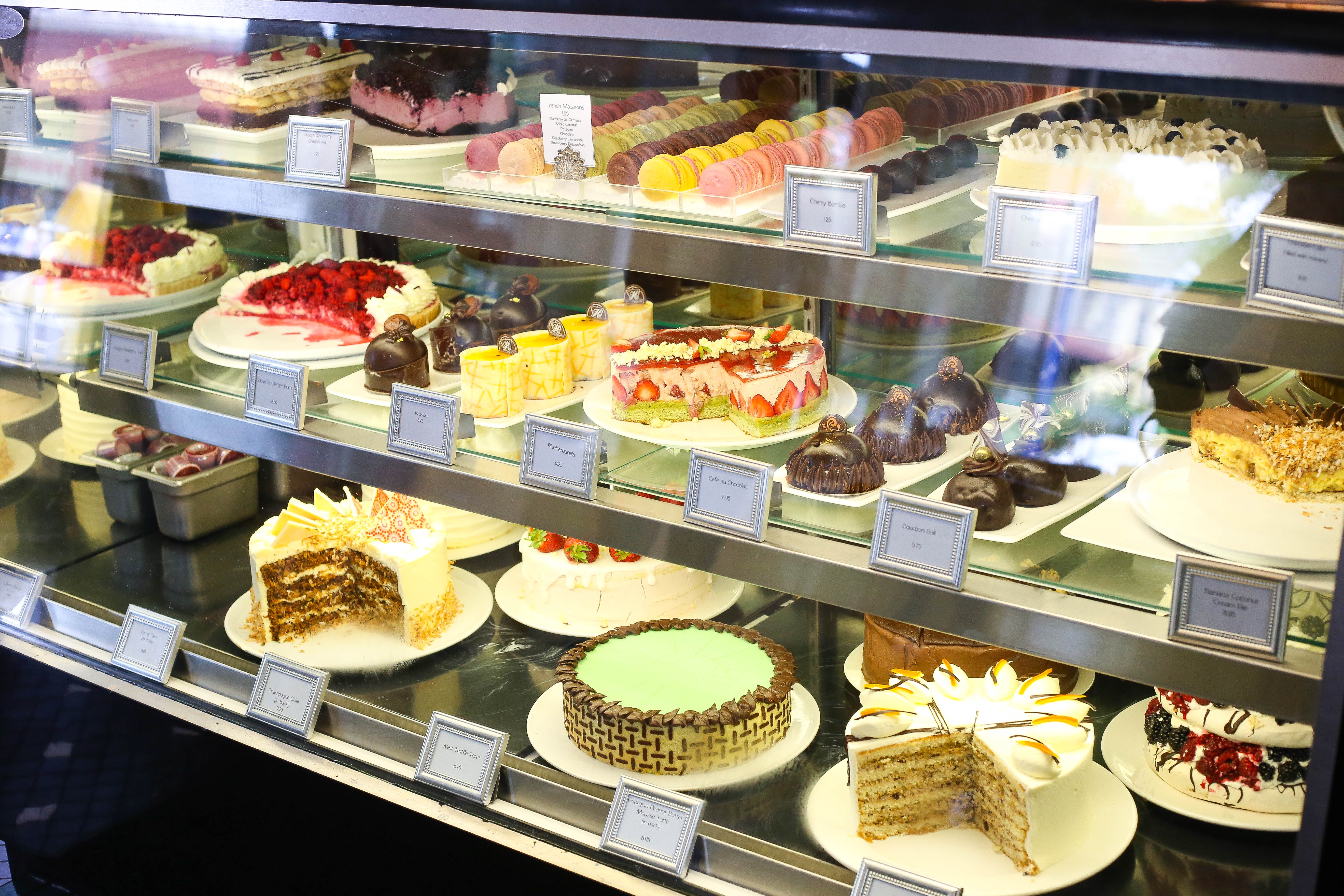 The first thing I knew I had to try was the Baked Alaska with layers of dulce de leche and banana ice cream. I had never had a Baked Alaska before and this one did not disappoint! Two of my favorite flavors – it was so good!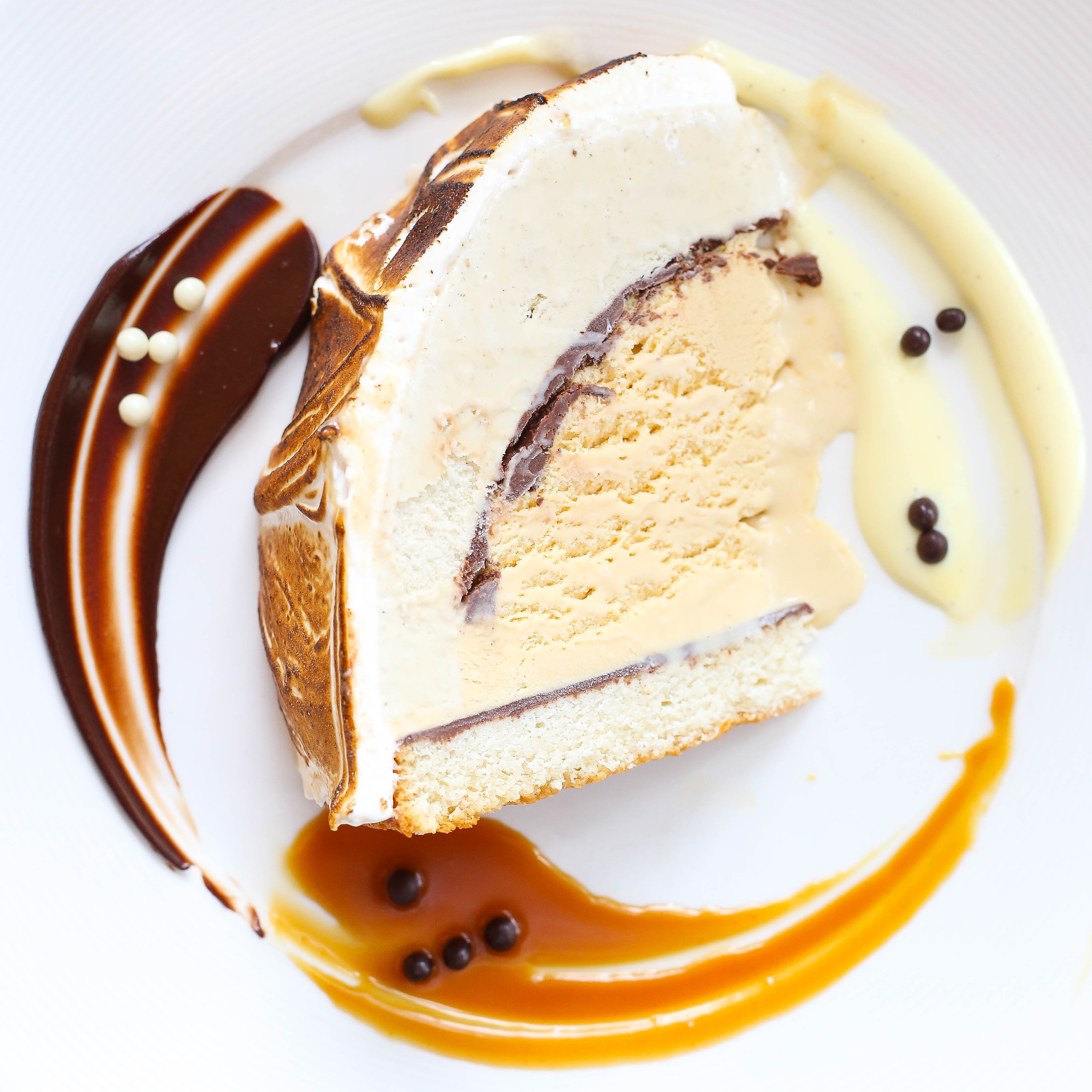 We also tried the Banana Coconut Cream Pie, the Spring Champagne Cake with orange blossom buttercream and the Bourbon Ball. All were delicious, but that cake. Um, yes.
Another highlight at this joint was the service. Our server was super nice and totally rolled with our crazy selves and all the photo taking. Though we didn't try their regular food, it looked terrific. If I were to want to go somewhere for a date night, this place would be excellent! Great dessert and a great experience.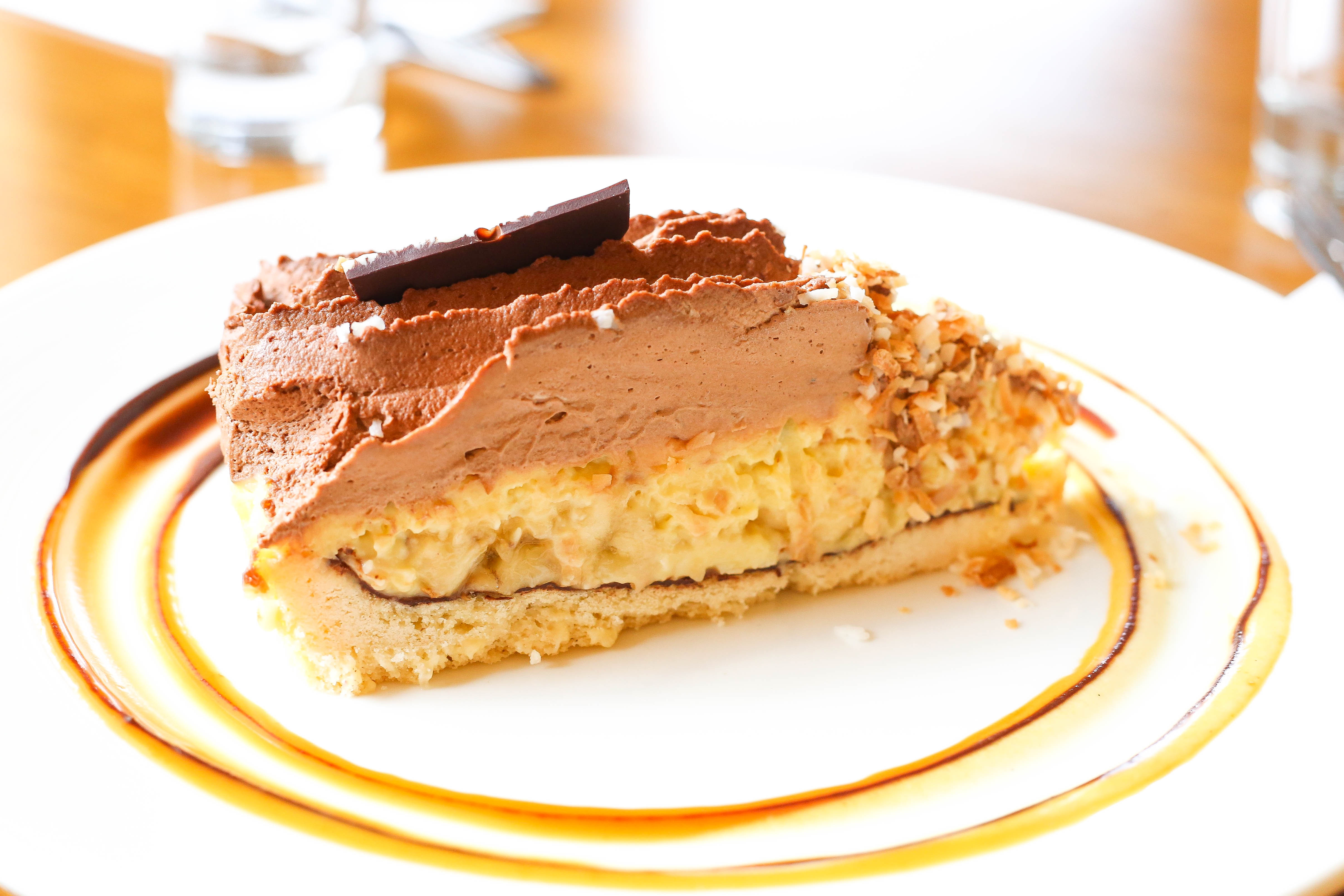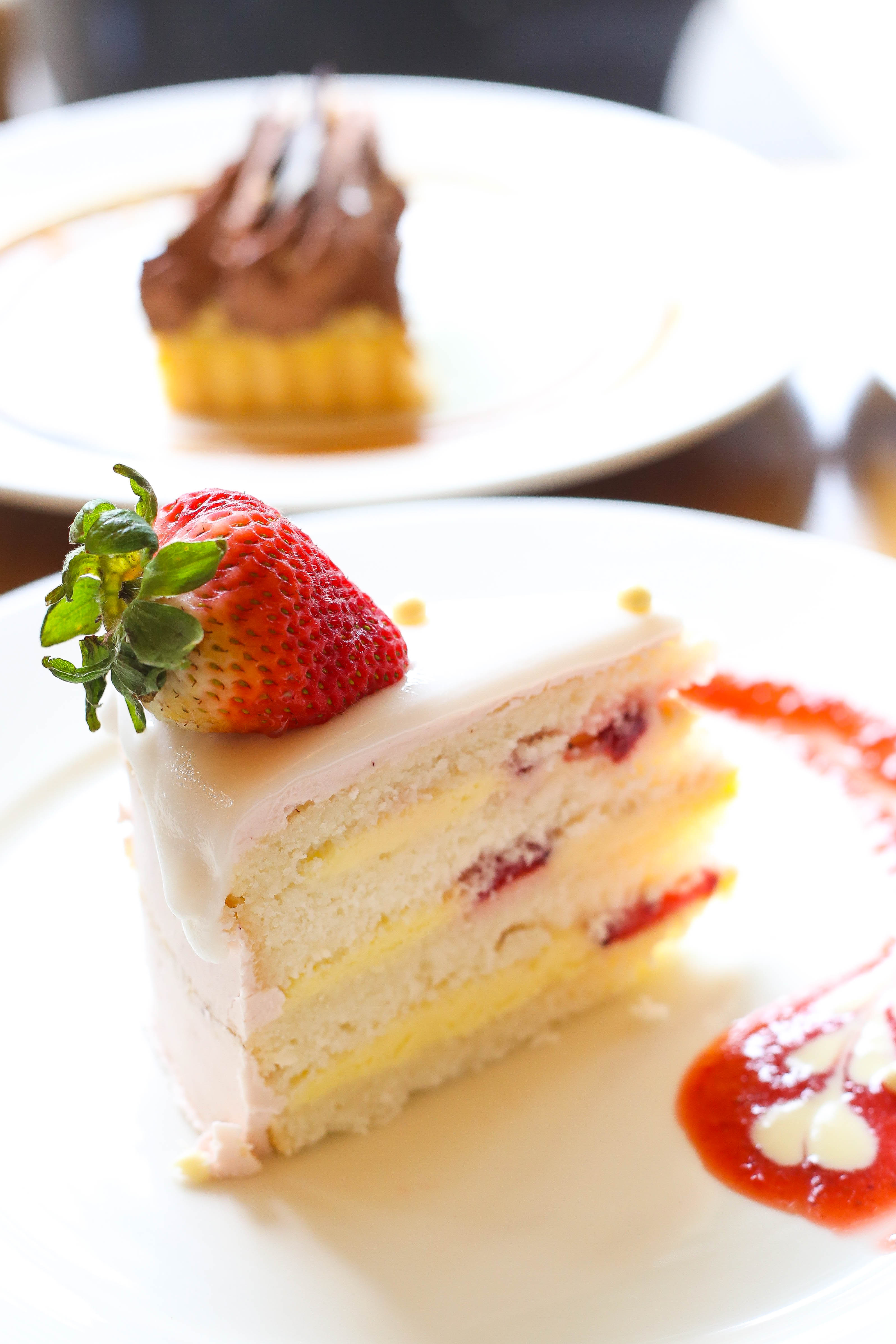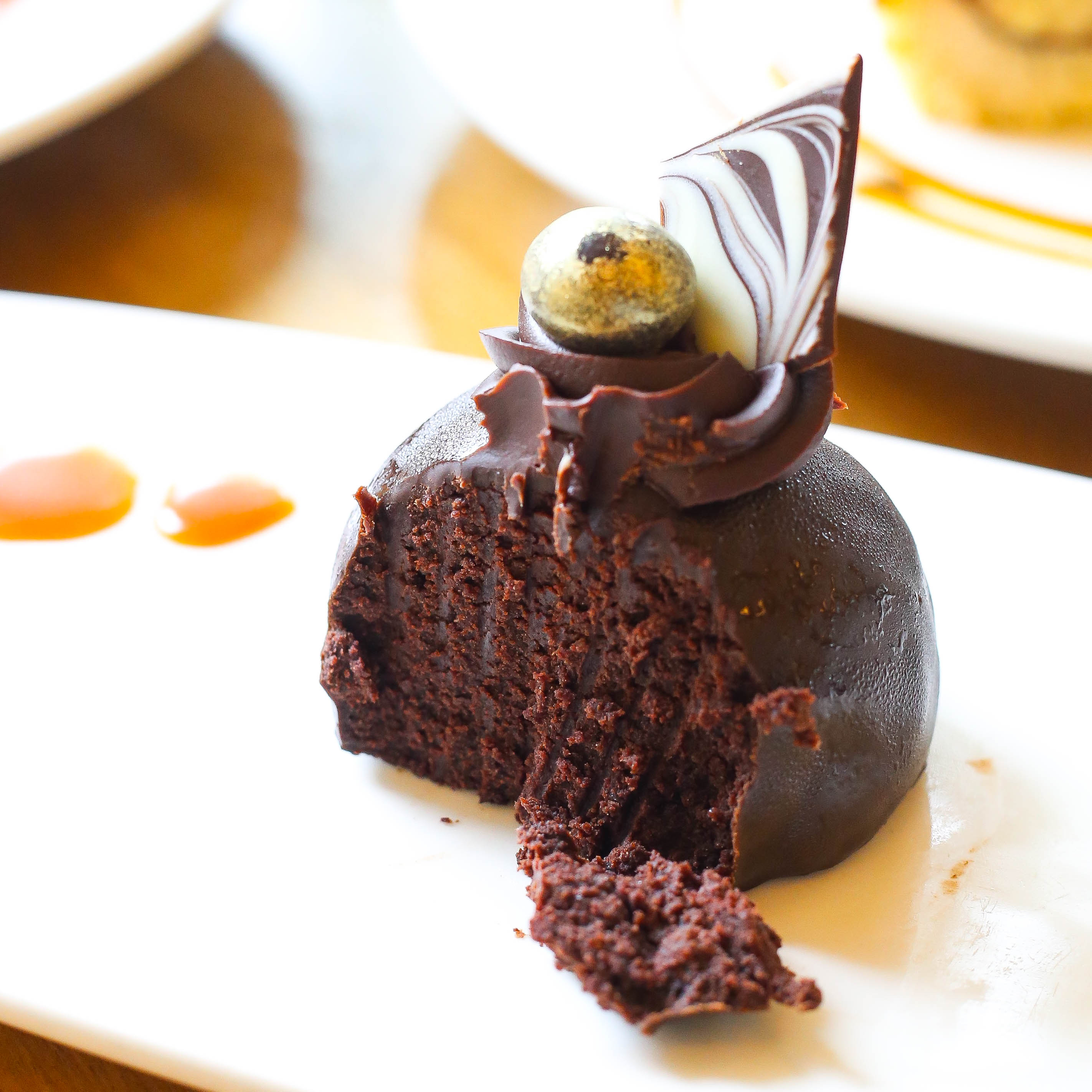 Next was more ice cream. Julianne was dying to take me to Salt and Straw. It's one of Portland's most well known ice cream shops and they are big into local Portland ingredients. We got a flight of ice cream so that we could share and try some different flavors. We got Cinnamon Snickerdoodle, Freckled Woodblock Chocolate (salty chocolate ice cream), Stumptown Bourbon Coffee Ice Cream and the Ancient Heritage Fresh Cheese and Strawberries. I'd say the snickerdoodle and strawberry ones were my faves, which was totally predictable. I love cinnamon sugar and I love strawberries. Delish!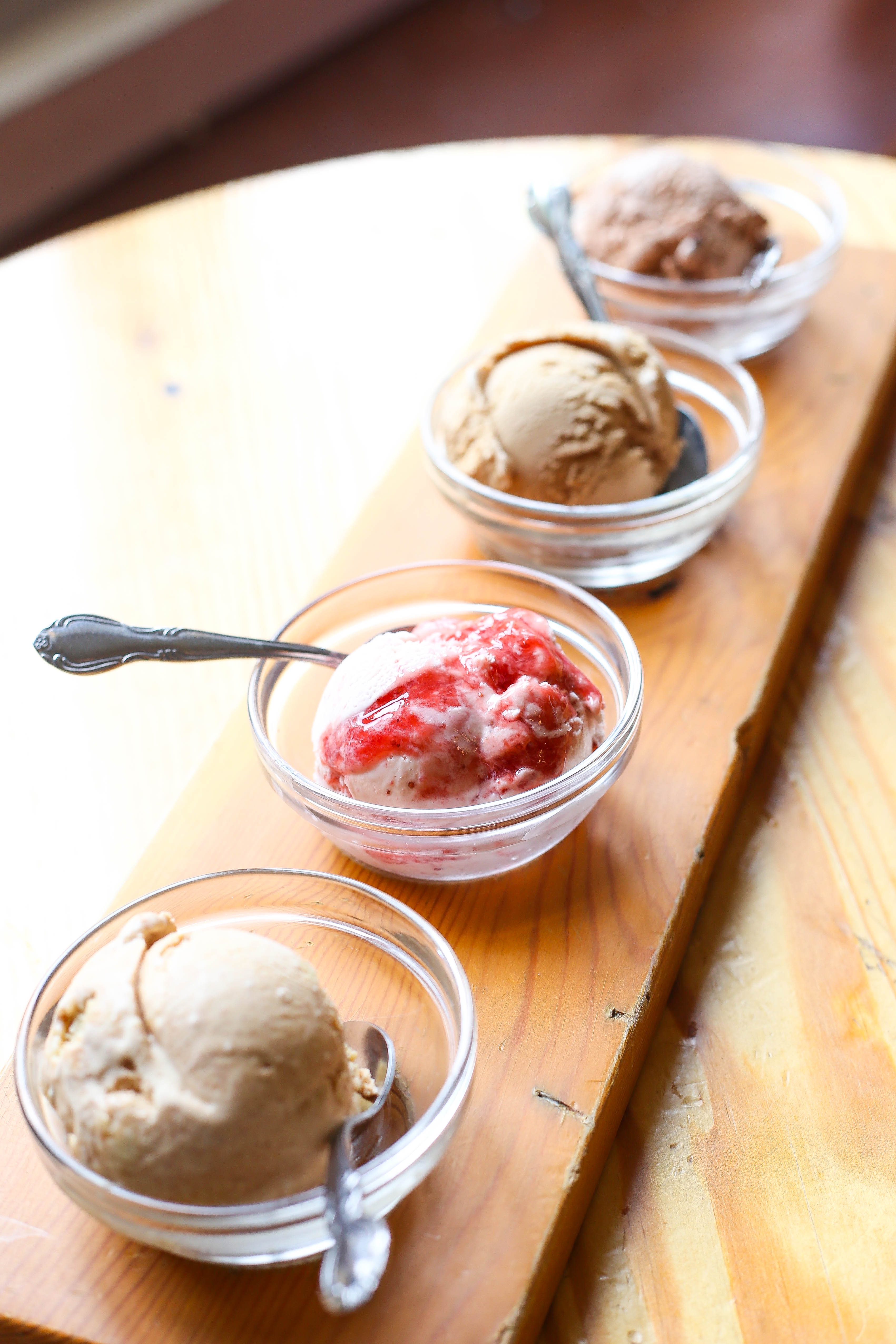 We made sure to check out some donuts while we were in town and Blue Star was the pick. I'm a big fan of getting to try new flavors and they definitely have that. They have fun ones like Pina Colada, Raspberry Rosemary Buttermilk, Blueberry Bourbon Basil and even a Cointreau Crème Brûlée – a vanilla bean custard with torch-fired sugar and a Cointreau orange liqueur pipette. SO fun!
We were pretty full by this point so we each only got one donut, but they were delicious.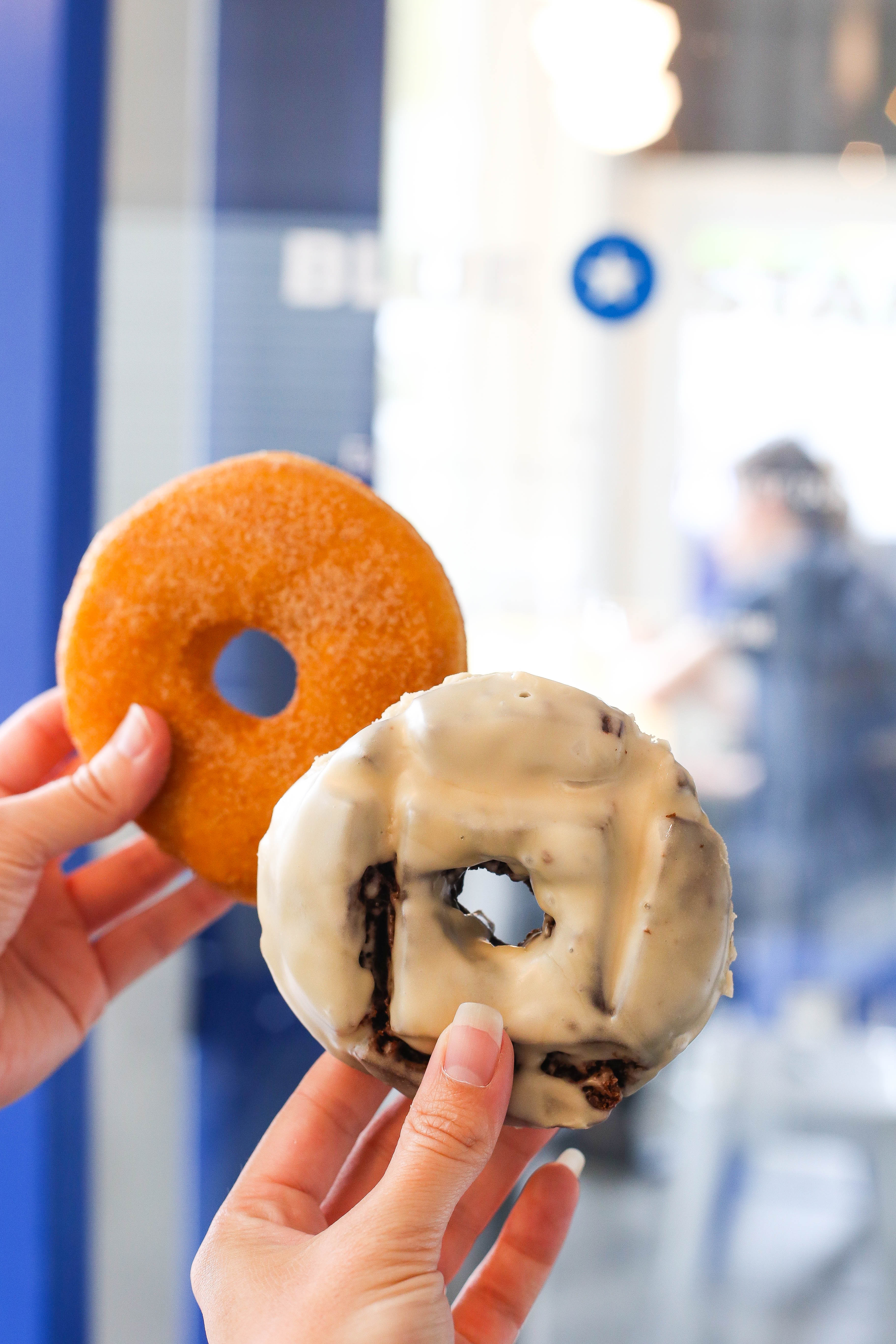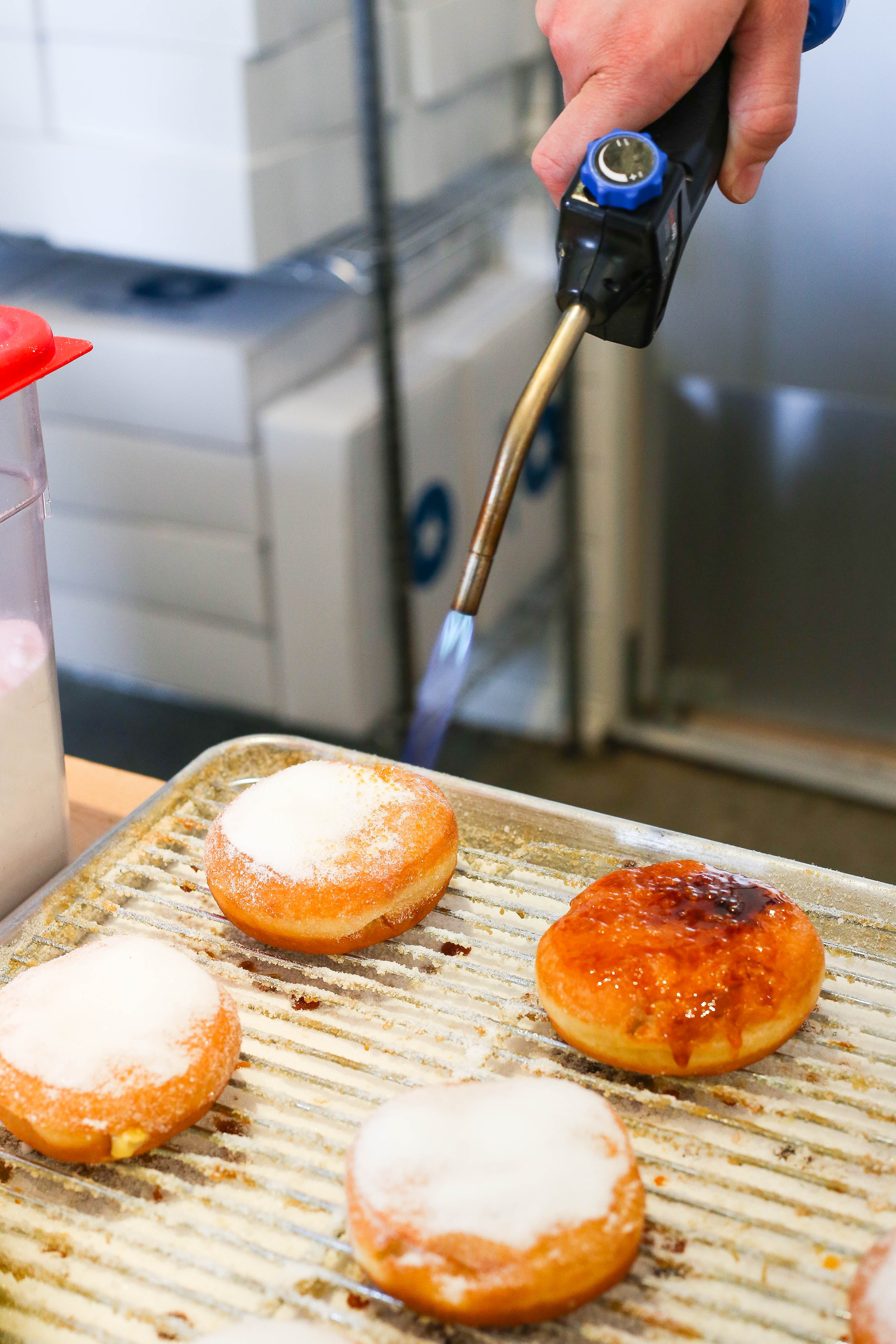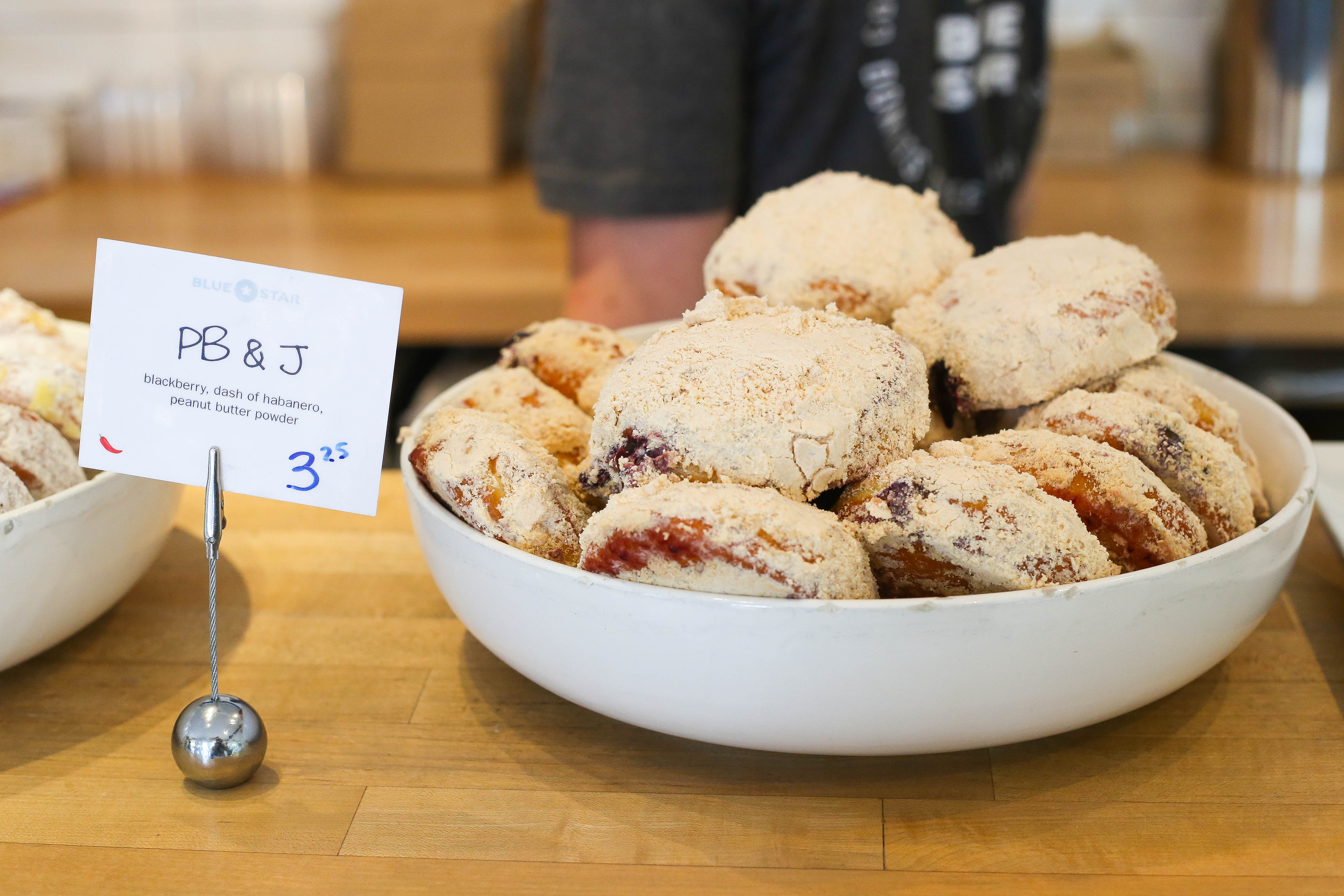 Next up was more pie! Pacific Pie is a restaurant in addition to a bakery. Yet again, we left the regular food alone and went straight for the pie. Chocolate Bourbon Hazelnut, Banoffee and Marionberry were the ones we tried. OMG the Marionberry!! So perfectly sweet and tart – and that crust! I'd never had it before so I was curious and despite being so full, I ate more than necessary. YUM!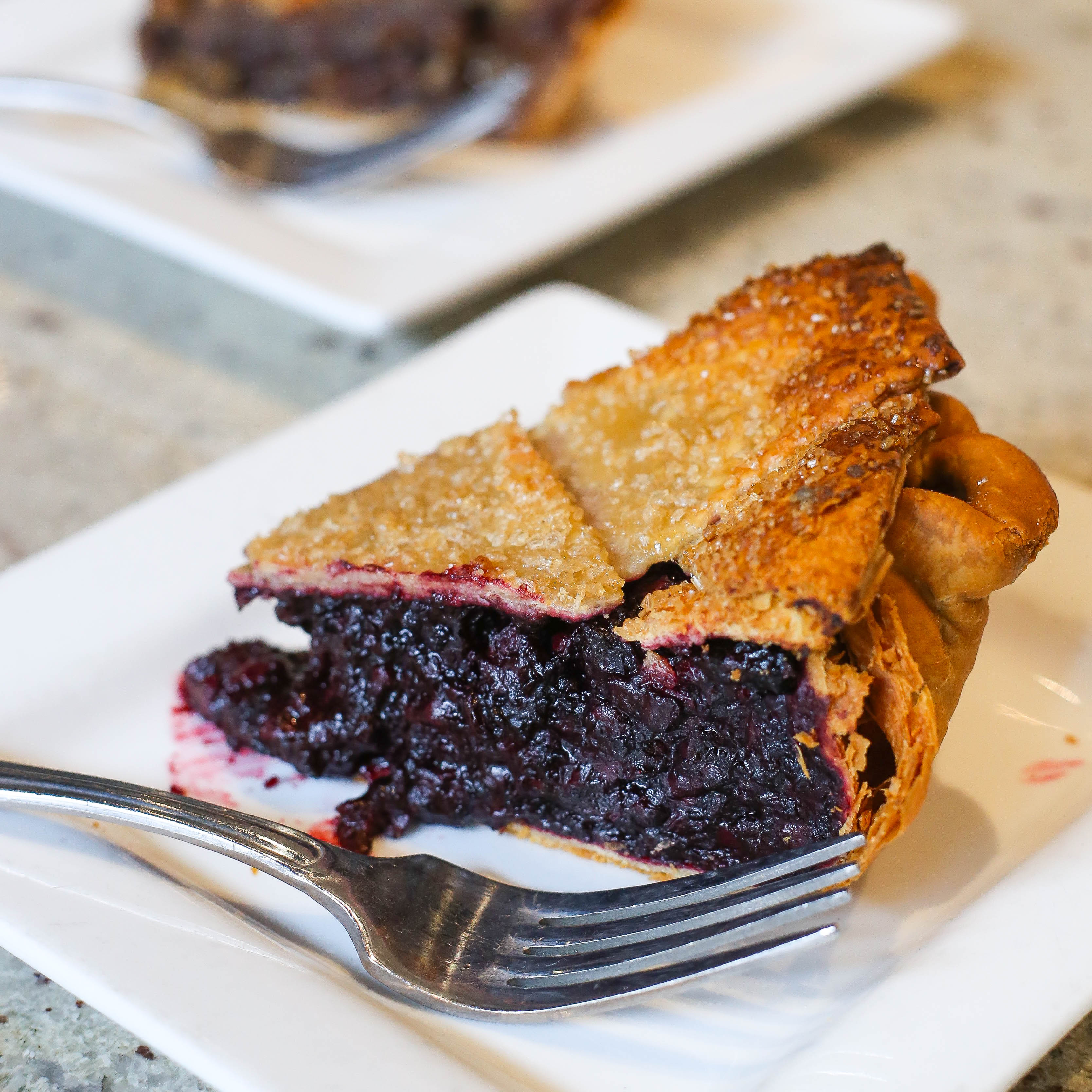 Aaaannndddd at that point, I was pretty sure that if I even looked at more food I might explode. But Julianne? That girl is a dessert warrior and she was on a war path to try all the ice cream. I went along for the battle and we hit two more ice cream spots.
Ruby Jewel was the first of the remaining two. They have quite a few locations around Portland and even had a little cart at the farmers market. You can also get their ice cream as an ice cream sandwich on two cookies, which is fun. Given my small amount of remaining stomach space, I opted for a single scoop of Amaretto Cherry in a cup. I didn't eat much, but I can tell you that it was super tasty! I really loved that flavor!
And last, but certainly not least, we hit up Pine Street Market. It's a cute little indoor eatery. We went to Wiz Bang Bar, which is a new place by Salt and Straw. Julianne had heard about their Birthday Cake Blackberry Sundae and wanted to try it. It's got birthday cake, custard, yogurt, whipped cream, cake-y crumbles, lavender white chocolate magic shell, blackberries – it's definitely made for sharing on an empty stomach. 😉 We hardly made a dent. HOWEVER. It was amazing! And the perfect way to end our crazy dessert tour of Portland.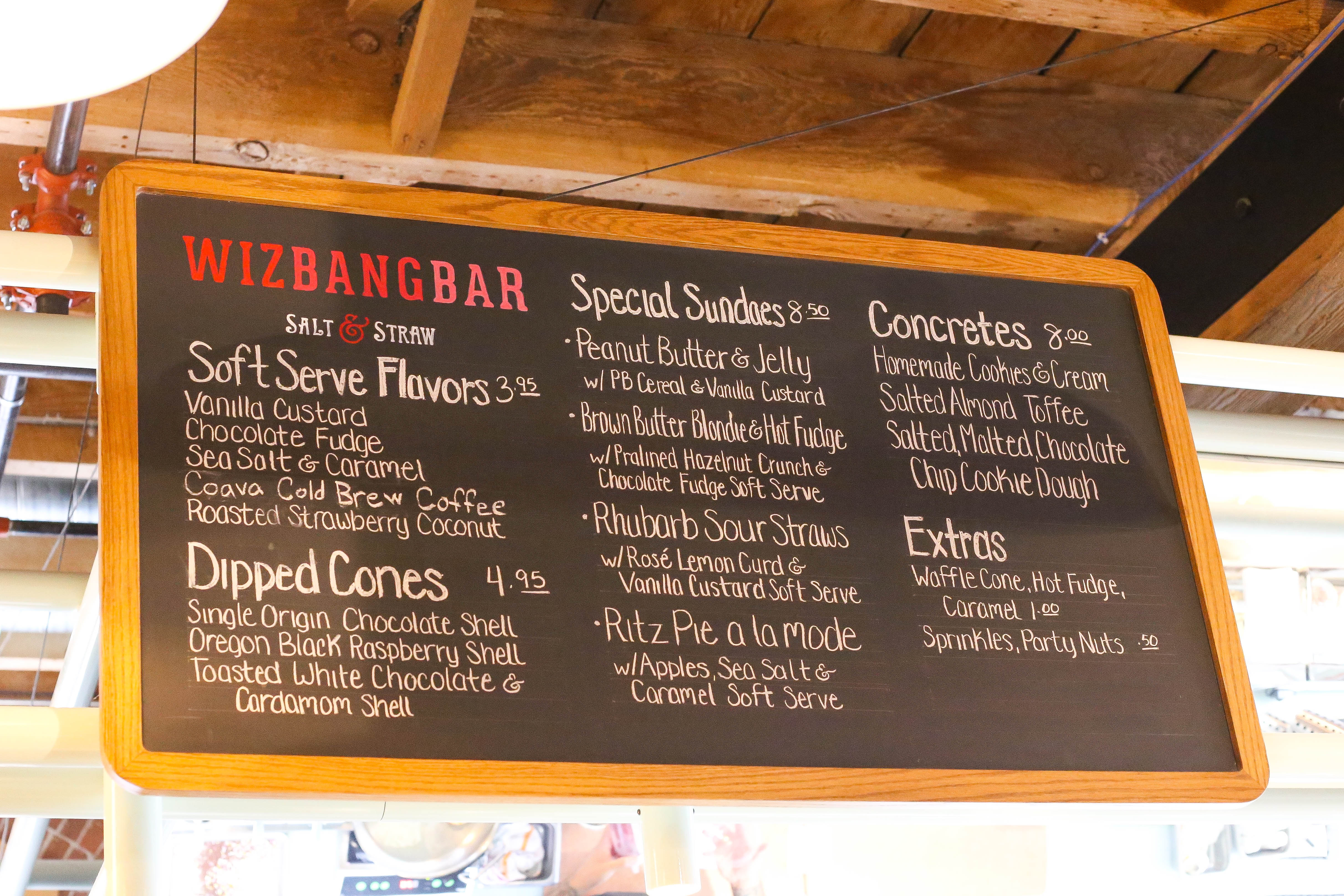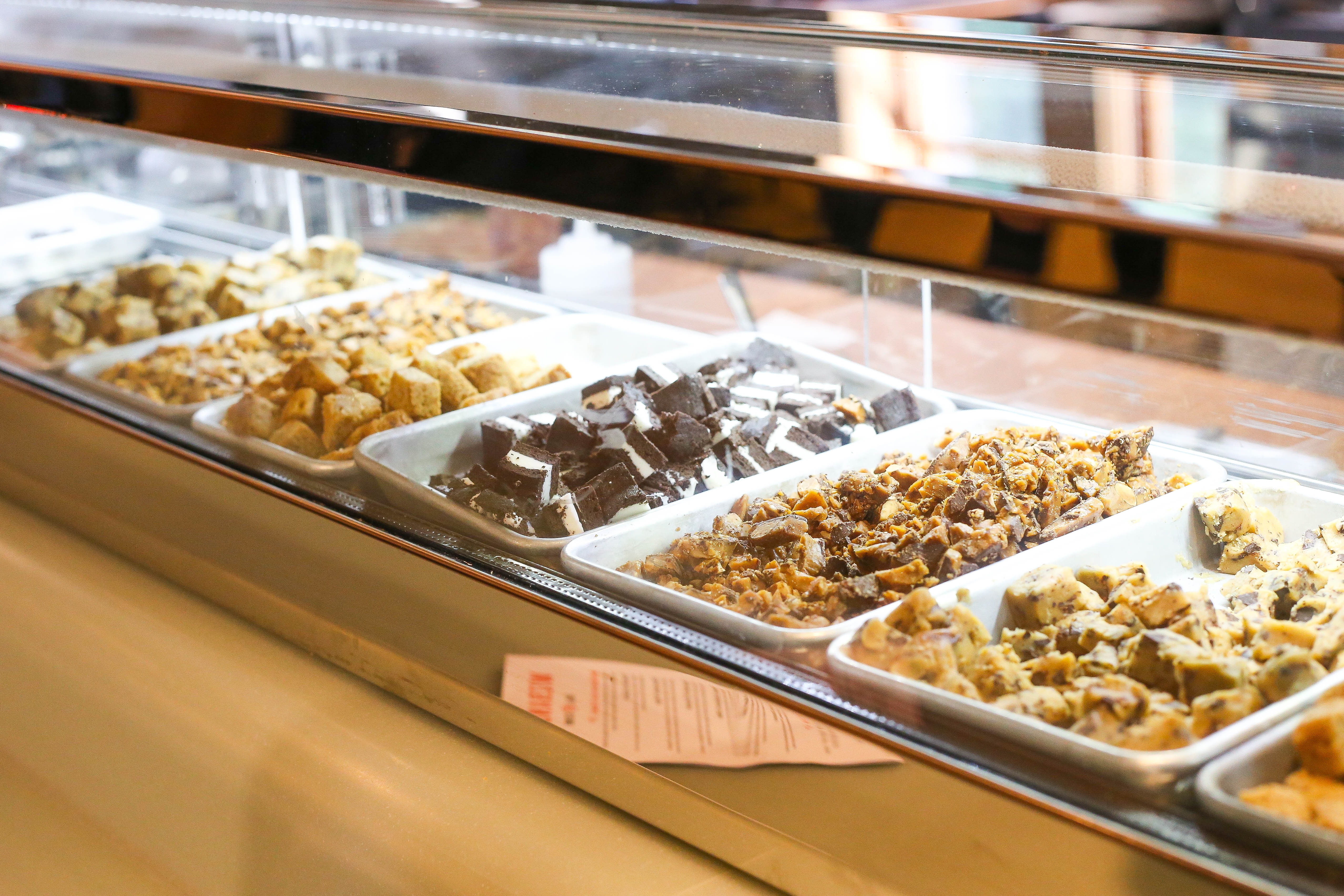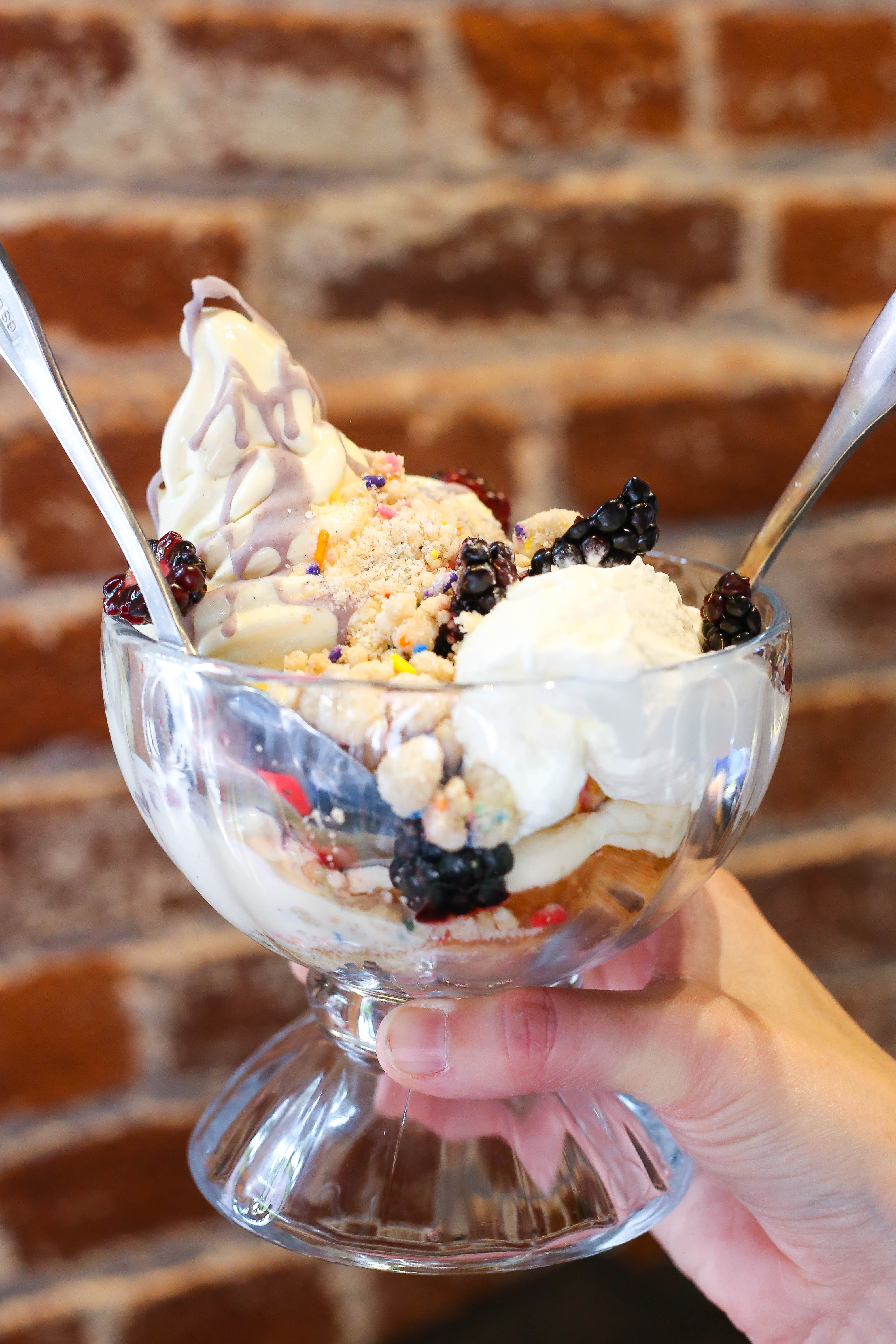 So what do you think? Are you inspired to take a trip of your own and eat AllTheDessert?! Or do you feel a little sick? I know I did after it was all done. 🙂 I came home and took the hubs and pup for a hike. There was no dessert involved.
Seriously though, Portland had a pretty rockin' dessert scene. I got to try a lot of flavors and such that I hadn't had before and that was totally fun. I'm all kinds of inspired to re-create a few things and the honey pie is first up!
If you want to check out Julianne's post on all the ice cream, give it a read!